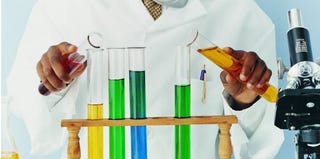 When high schooler Kiera Wilmot was arrested and expelled from her school for a failed, explosive science experiment, she was afraid. But now she's speaking out about her ordeal on the ACLU's blog.
I don't think police should have been involved because I'm a good student for one. And two, it was a big deal, but it wasn't like people were hurt and the school was in shatters. I maybe should have gotten 10 days suspension or a work detail where on Saturday you wake up early and pick up trash around the school.

I was very relieved they were dropping the charges. It means I can actually do something with my life. I was afraid this would be on my criminal record. I want to go to college and get a degree in technology design and engineering. I want a career building robots that can do tasks like surgeries or driving cars …

Right now I'm at Bill Duncan Opportunity Center, which is for students who were kicked out of school. People are teasing me and calling me a terrorist. And the school is actually quite easy. I'm not getting the challenge that I used to have. I don't have homework. There is no German class, and there is no orchestra. I probably couldn't even bring my cello because I was told the students would steal it.
Read Kiera Wilmot's entire piece at the ACLU's blog.
The Root aims to foster and advance conversations about issues relevant to the black Diaspora by presenting a variety of opinions from all perspectives, whether or not those opinions are shared by our editorial staff.