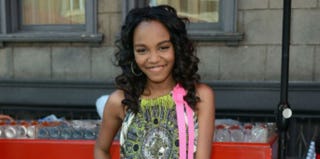 Writing at the Huffington Post, China Anne McClain, the teen star of Disney's Ant Farm, gives a youthful perspective on Black History Month by running down a list of the people who inspire her. 
1. My Mom 
As soon as I heard "influential African-Americans," the first people I thought about were my amazing parents! Let's start with my Mom. She is always so loving and supportive of me …

2. My Dad
Now for my Dad! He has influenced me so much by following his dreams. He has been a music producer since before I was born and he loves it! Seeing him do something he loves made me want to do it also …

3. Michael Jackson. 
Michael Jackson has influenced me to be a passionate performer. When he was on stage performing, you could tell that he loved it and was really having fun. Every single time I watch videos of Michael performing, I feel like I am on stage with him! …

4. Hattie McDaniel          

Hattie McDaniel was the definition of multi-talented. She was a singer, songwriter, and an incredible actress! Mrs. McDaniel would go on to become the first African-American woman to receive an Academy Award …

5. Beyoncé              
Beyoncé has taught me how to be confident on stage! She always has so much attitude! My sisters and I always watch her tours and performances together to try and learn how she manages to pull her audience in, whether it's 10 or 10,000 people! …

Read China Anne McClain's entire piece at the Huffington Post.
The Root aims to foster and advance conversations about issues relevant to the black Diaspora by presenting a variety of opinions from all perspectives, whether or not those opinions are shared by our editorial staff
Like The Root on Facebook. Follow us on Twitter.