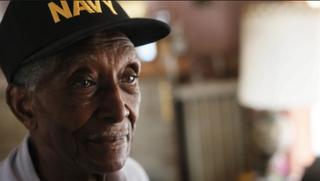 In July, 90-year-old World War II veteran Johnnie Hodges Sr. was forcibly removed from his Buffalo, N.Y., home, where he lived for more than 60 years, after falling behind on his mortgage payments.
Hodges became delinquent on the payments while caring for his wife, Flora, who was in failing health with Alzheimer's disease, WKBW reports. She died in 2014, and Hodges was unable to reach a repayment agreement with the bank. So after a two-hour standoff with police, who didn't want to handcuff Hodges, he was taken by stretcher from his home.
On Friday, with the help of thousands of donations to a GoFundMe account, Hodges was able to buy his house back.
"Yeah, I'm glad to be home. There's no place like home," Hodges told WKBW.
Robin Hodges told WKBW that her father had insisted on caring for his wife of 67 years by himself. M&T Bank tried to work out possible payment plans, including stretching the eviction out for five years, before the bank claimed that it was left with no choice. Robin Hodges says that her father hid his financial stress from the family because he didn't want to burden them.
"It didn't matter to him because all that mattered was caring for my mother," Robin Hodges told the news station.
According to the news station, some 2,000 people contributed to the account to help Hodges repurchase his home, with help from Rep. Brian Higgins (D-N.Y.) and the U.S. Department of Housing and Urban Development.
Local businessman Greg Elwood created the crowdfunding page, which raised more than $110,000.
Said Johnnie Hodges to the news station: "I am so grateful that I am back to stay. And I am never leaving again!"
Read more at WKBW.