Tragedy struck Table Rock Lake near Branson, Missouri on Thursday night when a tourist duck boat capsized, claiming the life of 17 people. There were 31 people on-board, ranging in ages from 1-76. One family, The Colemans lost nine family members.
Belinda Coleman, Glenn Coleman, Horace "Butch" Coleman, Irvin Raymond Coleman, Angela Coleman, Evan Coleman, Reece Coleman, Maxwell Coleman and Arya Coleman all lost their lives in the tragedy, according to ABC News. Only two members of the family survived: Tia Coleman and her 13-year-old nephew. Tia lost her husband, her parents-in-law and all three of her children, aged 9, 7 and 1.
From her hospital bed, Tia shared her horrific experience.
"I couldn't hear screams, it felt like I was out there on my own. And I was yelling, screaming and finally, I said, 'Lord, just let me die, let me die, I can't keep drowning, I just can't keep drowning.' And then I just let go," Tia told ABC.

Once Tia "let go," she began floating and was able to make it to the top of the water and was thrown a life jacket from the rescue boat.
According to Fox affiliate WXIN, Tia was told that she was told by the boat's captain, who survived, not to worry about the life jackets.

G/O Media may get a commission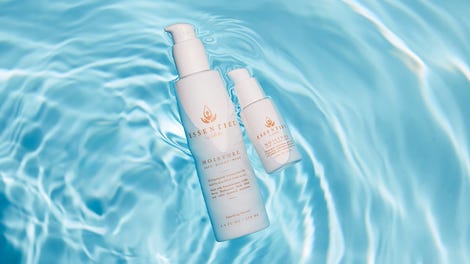 20% off
Essentiel by Adele
"My husband would want me to say this — he would want the world to know that on this boat we were on, the captain had told us 'don't worry about grabbing the life jackets — you won't need them' so nobody grabbed them as we listened to the captain as he told us to stay seated," Tia Coleman said.
Even though there were severe thunderstorms happening that evening, the boats still set sail. The weather got really bad, really fast, with winds up to 60mph. If the boat was still going to go out on the water, it seems as if there would be a need to tell people to all wear life jackets.
ABC News reached out to Ripley Entertainment, which owns the duck boat company, but they did not immediately respond. They have since put out this statement:
We are deeply saddened by the tragic accident that occurred at Ride The Ducks Branson. This incident has deeply affected all of us. Words cannot convey how profoundly our hearts are breaking. We will continue to do all we can to assist the families who were involved.
There is an investigation is now underway. U.S. Coast Guard Captain Scott Stoermer said at a press conference on Friday that whether or not the life jackets were worn will "definitely be a focus of the investigation and certainly one of the questions we will be looking to ask."
This video below was captured by Tony Burkhart, a man who was supposed to be out on the duck boat with his wife, but after seeing the weather, decided to get a refund and leave. This decision saved the Burkharts' lives.

And apparently, the Colemans were never supposed to be on the duck boat that capsized. Tia told KOLR that they missed their boat after arriving at the wrong duck boat business. So when they got to "Ride the Ducks," they switched out their tickets for the 6:30 ride, the ride that claimed 17 lives of the 31 onboard.
The names of the victims are slowly starting to be released. According to People the deceased include Janice Bright, 63, and William Bright, 65 (they were celebrating their 45th wedding anniversary); William Asher, 69 and his girlfriend Rosemarie Hamann, 68; father and son, Steve Smith, 53, and Lance Smith, 15; Leslie Dennison, 65 and the driver of the duck boat, Robert "Bob" Williams
Missouri governor, Mike Parson said in a statement on Friday:

What happened here last night was a heart-breaking tragedy, and we must all work together to support the victims and their families. The courageous efforts of emergency responders and civilian rescuers helped avert an even worse tragedy, as people rushed to help in extremely dangerous conditions. I was inspired by the stories I heard from some of those who were part of the rescue effort and tremendously encouraged by the strength of the family members of victims I met with today. We pray for all those who were affected by this terrible tragedy.
President Donald Trump and first lady Melania Trump offered their condolences to the families who lost their loved ones. The Trumps extended "their deepest sympathies to all those affected by yesterday's boating accident on Table Rock Lake," White House press secretary Sarah Sanders said in a statement Friday. "Our prayers are with the victims and their loved ones. We are thankful for the brave first responders and dive crews, whose quick and decisive actions have saved many lives, and we continue to pray for their safety as their search, rescue, and recovery operations continue."