Collard greens for $66? Collard greens with peanuts??? Sweet potato pie with Parmesan cheese?
If you've ever fiercely defended your grandmama's [fill in the blank] as the best dish you've ever tasted, you'd likely shudder at the thought of some of these recipe remixes. In the last few years, black Twitter has shamed these newfangled foods on social media. "Don't mess up a good thing" is a lesson that some chefs, brands and food enthusiasts could have used before tweaking these faves. Take a look at these hot messes and then call your mama and auntie to thank her ahead of time for her brand of culinary genius.
1. Collard Greens
Whole Foods caught itself in a forkful of controversy in January when it tweeted a picture of collard greens with a link to a recipe on how to cook collards. Twitter users went in on the image attached to the tweet—it included something black folks have likely never, ever tossed in a big pot of greens: peanuts. #HealthNo. As if that weren't bad enough, just this week, Neiman Marcus started selling collard greens for $66 (plus $15 shipping).  For $66, them greens better taste like rainbows and unicorn tears.
2. Jollof Rice
G/O Media may get a commission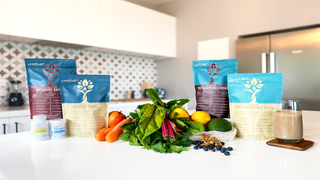 Whether you're Nigeria or Ghanaian or just appreciate the culinary excellence that originated in the Motherland, you know that jollof rice is a staple among West African dishes. But in 2014, British celebrity chef Jamie Oliver added his unsolicited take—coriander, lemon and parsley—on the traditional starchy side dish. The flavor profiles offended so many jollof purists.
3. Potato Salad
Zack "Danger" Brown made the biggest profit on a bowl of potato salad this side of your church's annual summer barbecue. He started with a Kickstarter, requesting $10 to make a bowl of potato salad. It spiraled into a viral sensation, making more than $50,000 and garnering him a book deal. The cookbook, titled The Peace, Love and Potato Salad Cookbook, features 24 potato-salad recipes, one of which includes a garlic-cilantro mojo sauce. It's definitely not your mama's slammin' potato salad.
4. Rice and Peas
In a video produced for food-and-beverage brand Knorr, Marco Pierre White makes what he calls "brown rice, Jamaican style." He sautes onions and adds brown rice, water, chicken drumsticks (that haven't been seasoned), some packets of Knorr chicken-flavor packets and green peas. Let's just say that the food gentrification in this video is just utterly disrespectful to the originators of this Jamaican food staple.
5. Pork Rinds
Maybe only if you wanted to feel like a pig that flies would you ever need to try what Bacon's Heir calls "pork clouds." This crunchy treat is made from salt-cured pork skin, which of course is just a refined name for pork rinds. "They are the ideal accoutrement to a craft beer, a sandwich, or even as croutons in a salad—adding flavor and crunch without all the carbs."
6. Sweet Potato Pie
Patti LaBelle would probably lose her mind if she saw this recipe for sweet potato pie that went viral in September. It's one of those in-vogue recipe videos that are all the rage on Facebook. And all seems to be going OK until the chef pours half the batter into the piecrust and then … sprinkles … some … Parmesan … cheese … in … to make it a "stuffed" sweet potato pie. Of course, the internet rightfully freaked out about this.
7. Caribbean Food
In October 2015, the New York Times "Columbused" Caribbean food in New York City. This revelation, of course, is less about ruining a food and more about ignoring the long history of Caribbean food and culture in the city.
8. Mumbo Sauce
Washington, D.C.-area natives—and Chicagoans—stake a claim to mumbo sauce, a sweet-hot-tangy, tomato-based sauce that is poured on chicken wings and French fries at local carryout restaurants. But in 2013 the Washington Post noted how one trendy eatery in Northwest D.C., the Hamilton, had added the sauce to its menu. Mumbo sauce is usually found in Chinese takeout spots, for the cost of an extra pack of sweet-and-sour sauce from McDonald's. But at this restaurant, appetizers that might call for a dip in that sticky mumbo sauce could cost you around $11.
9. Chitlins
Top Chef Masters winner Chris Cosentino has made a whole career off of making offal, the internal organs of a slaughtered animal. This includes pig intestines, otherwise known as chitlins to your mama, auntie and uncle nem. Just take a look at the fancified version, with calamari and spicy aioli, that he posted on Twitter in July.