It is still not clear why an 8-year-old New Jersey girl decided to take her own life over the weekend, but sources close to the investigation report that she had seen a story on Facebook about another little girl killing herself in a similar manner.
According to NBC 4 New York, Essex County, N.J., prosecutors are looking into whether little Imani McCray was copying what she had read involving the death of 10-year-old Ashawnty Davis, or if she hanged herself in an unfortunate case of playacting at her home over the weekend.
Authorities said there was no indication that Imani was being bullied. However, she was found unresponsive less than a week after authorities say Ashawnty took her own life as a result of bullying at school.
Imani had been sent to her room for a timeout the day of her death. Relatives who found her worked desperately to revive her, and she did have a faint pulse when paramedics arrived. However, she was ultimately pronounced dead at University Hospital in Newark.
Now, instead of planning a birthday party for a little girl who would have turned 9 years old next week, Imani's family is making funeral arrangements.
G/O Media may get a commission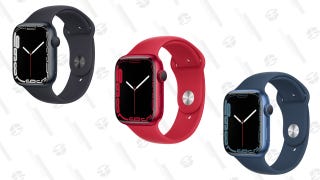 Up To $45 Off
Apple Watch Series 7
Read more at NBC 4 New York.