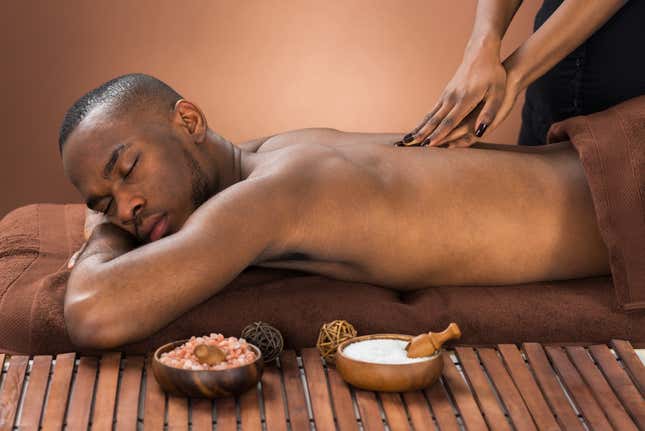 Last Saturday—October 12—was my one-year wedding anniversary. My wife and I made a whole day out of it, doing lunch, dinner and getting our staycation on at a hotel in downtown Washington, D.C., and hitting up a speakeasy for the nightcap. One thing we did early in the day was a couple's massage at a spa located in the Gaylord National Resort and Convention Center at the National Harbor in Oxon Hill, Md.

Fighting "Lie-abetes": How To Spot And Combat Disinformation and Conspiracies In Politics | The 411: Part 2
Now, this is my first-ever professional massage of any sort. I have no particular aversion to massages, I've just never viewed it as something I needed so I've never thought to book one. My wife, however, loves going to the spa to get a massage, etc.—at this particular spa, they know her up in there. I joked that considering how familiar they were with her, maybe she doesn't go to Target as much as I think but is instead going to the spa and they mask the charges, reporting them to the banks and credit companies as Target transactions. They laughed; nobody told me I was wrong.

Anyway, my first massage was an interesting experience. While it was a relaxing experience, I couldn't turn off my brain the entire time I was on the table. I had a slew of thoughts; a bevy of brainstorms, if you will. I'd like to share them with you, and yes, I might consider getting a massage again. Here are 8 thoughts I had while getting rubbed down, appropriately and professionally, during my couple's massage.

1. I know the reason people get massages is usually for relaxation and as a stress reliever. Ask anybody who knows me: I'm typically one of the least stressed people on the planet. I felt the same after the massage as I did before it, except my wife and I paid for some woman to put her hands all over me. I don't know what to make of that information but I was definitely thinking to myself this is like a version of the strip club where you pay them to touch all on you—professionally, of course.

2. Look, I don't know how else to bring this up—which will be a pun shortly—but I can't lie: I was concerned that this might be one of those places where unintentional arousal happens. I've never had a professional rubdown before so I had no idea how my body would react. Plus, there was definitely a booty rub that happened. Thankfully, that concern proved to be fruitless; I spent the vast majority of the massage so caught up in other thoughts that if that was a goal of a massage therapist (I know it's not, I'm speaking theoretically) it would have been a disappointment. But, I'd be lying if I said that wasn't something I thought about beforehand. I'm a couth mofo, though. I'm pretty sure uncouth men getting rubbed down, um, rise to the occasion and I wonder how uncomfortable that is for everybody involved. Like, I KNOW it happens. Does everybody just pretend like it's not? This won't keep me up at night (no pun intended), but I was thinking about this during my massage.

3. So, at one point, the masseuse pushed down on my stomach. Hard. I had no idea what was happening but I stood tall. Now, had she caught me, say, an hour earlier, that action might have forced a smell that would have cleared the room. I laid there thinking, "I wonder how many folks let off gas in this room and because it's a professional environment NOBODY says anything." I used to work in a professional work environment and nothing was worse than those moments where SOMEBODY farted, especially during a meeting, and everybody had to fight through it.

4. I know that the environment for a massage is supposed to be super relaxing. The sounds of the room were serene and quiet and peaceful. There was a lot of soft piano music and ALL I kept thinking was that I wanted to hear Lonnie Liston Smith's "A Garden of Peace," which all hip-hop heads will know as the sample used for Jay-Z's "Dead Presidents." THAT got me thinking about all of the music I'd rather hear while being massaged than what I was listening to. I kept thinking not of hip-hop songs, but of the samples used to build those songs. Hell, I was like "Why are we listening to this nonsense when Earl Klugh or Isaac Hayes would be just as serene?" Which got me to thinking about…

5. ...Opening my own spa. Because of course, every person who enjoys some shit who is even a little bit enterprising is like, "Hell, I should do this." Except my only reason was so that I could pick the music that I think would actually be serene and peaceful and that would occasionally include Mobb Deep's "Shook Ones Pt. II." I kid, I kid. But seriously, my mind went straight to what a peaceful, serene hip-hop playlist would sound like, and it was mostly comprised of samples from my favorite songs. That said, I do think that when you walked into one of my massage rooms at my imaginary spa, Jay Rock's "Win" would start playing immediately. My spa would either be a tremendous success or shut down in a few weeks like a nightclub that catered to the wrong crowd.

6. This isn't necessarily directly massage related, but I got there a little bit late, so my wife was already chillin' in her relaxation lounge and living the good life. When I got there they had to rush me to the back and I don't think I got clear instructions. I had no idea if I should strip down to my birthday suit; I was literally confused by this. I didn't want to be the dude who wasn't supposed to be naked but ended up naked and caught a lawsuit. So I left my drawz on. Better to be safe than sorry, right? Yeah, there were a lot of naked people up in the spa. After our massage, I went to the sauna and started to walk towards the whirlpool and a white man emerged buck-nekkid, which threw me off because I legitimately didn't see him in there; it's like he was a sea creature. And also, because I'm like, "so we just all supposed to use this thing naked together?" I let him have it.

7. There's nothing more vulnerable than being damn-near-naked on a table, facedown, not having any idea what's about to happen and then having a hot-ass heating pad thrown on your back and then feeling like somebody jumped on you and started kneading your back. I got comfortable quickly, but the unknown is a real thing. Especially in this case, because I had zero idea what was happening or about to happen.

8. All in all, I enjoyed the experience. I'd do it again and even go back to the place that we went, though I'd probably only do it as another couple's excursion. I can't see myself going to get solo massages. It felt a little bit like a strip club where the strippers get to touch you and YOU'RE naked. I absolutely felt like there are men who won't cheat on their spouses (and women, too, for that matter) but use these relaxing massages to get as close as possible without doing anything wrong whatsoever. For almost an hour, a strange woman had her hands all over me, literally. But now I know the deal and will be prepared for next time.

Next up? A manicure!