After more than 30 years in the business, Ronnie DeVoe, Bobby Brown, Ricky Bell, Mike Bivins, Ralph Tresvant and Johnny Gill are being honored with a star on the Hollywood Walk of Fame and a highly anticipated, three-part biographical miniseries on BET that began airing Tuesday.
As they promote the film, the members have been expressing their gratitude to loyal fans, but fans have a lot to thank the members of New Edition for, too. Here's a list:
1. Turning a Phrase

"Never trust a big butt and a smile" may be one of the most recognizable and real phrases ever uttered in popular music. Ricky Bell's warning is a signature phrase for New Edition spinoff Bell Biv DeVoe and for people all over who've ever allowed swaying hips to hypnotize them. Along with "Smack it up; flip it; rub it down," music lovers need only utter the first few words and the sentiments are understood, much to the chagrin of those trustworthy few among us who just happen to be carrying lots of junk in the trunk.

2. Trendsetting
G/O Media may get a commission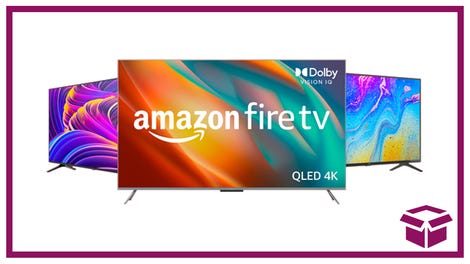 Ooh. stunning.
New Amazon Fire TVs
The '80s and '90s were great in many ways, but fashion doesn't top the list of reasons why. Coca-Cola shirts, tie-dye, stonewashed jeans, Cross Colour overalls and pastel polos reigned, and the fellas of New Edition were right there to show you how to wear those questionable clothes, and they did it well. Whether they dressed as quintuplets—there's strength in numbers—or tried to express their individual style, they helped preserve a moment in time and encouraged fans to embrace the bright colors and slouchy silhouettes that defined the era. If you can proudly strut around in a spray-painted jean jacket, you can most definitely stand the rain.

3. Celebrity Crushes
Ralph Tresvant's crush might have been a secret worth singing about (Did you get it yet?), but for young sisters growing up in the '80s, it was assumed and downright expected that you'd have a crush on one or more members of New Edition. Years after the brethren of the Jackson 5 had moved into manhood and before Hi-Five or B2K emerged, the "Candy Girl" boppers gave teenage girls wholesome objects of affection over whom to swoon. While that may not seem like a big deal, in a decade when Scott Baio and the Coreys (Feldman and Haim) were considered teenage heartthrobs, having age-appropriate, chocolate-hued, handsome hunks-in-training to fill your dreams was appreciated.

4. Leading the Way
New Edition wasn't the first successful R&B group. Musical acts from the Commodores to LTD churned out hit after hit decades before, helping to create a blueprint for those who followed, but when it came to the '80s and '90s groups whose members weren't yet old enough to drink, New Edition paved the way. Hi-Five, Immature/IMx, the Boys and So for Real are just a few groups that benefited from NE's success, as our Boston beaus did from the Jackson 5. Oh, and let's not forget that Michael Bivins is the producer who introduced the world to Boyz II Men and ABC. While those singing ensembles have since disbanded for a variety of reasons (RIP, Tony Thompson), Ronnie, Bobby, Ricky, Mike, Ralph and Johnny are still making music together. Even solo careers couldn't keep them apart, which puts them in a class of their own.

5. Keeping It Real
Fans were there when they first lost themselves in love; when they shared their NE heartbreaks, realized that it wasn't really love and learned not to trust smiling big butts. The discography of the New Edition collective is a coming-of-age story. Through the years, the content of their tracks changed as they transformed from adolescents into adults. Like their listeners, the group members grew up and were able to shed their bubble-gum image for one that allowed them to bring us "Sensitivity," "Roni," "Rub You the Right Way," "I Do Need You" and "Can You Stand the Rain." Fans were able to relate to every little step of their journey.

6. Brotherly Love
Sure, the men of New Edition are still a tight unit, but like most yearslong relationships, that bond has been tested with a lot of blood, sweat and tears. Fans will likely never know all that's transpired among the brothers—and it's probably better that way—but from the front-row seats to much of the ups and downs, what has stood out is their bond. Through solo careers, personal tragedies and successes, inner turmoil and public scrutiny, they've managed to show us what true friendship looks like.

7. Breaking a Sweat
So, there might be cause for a member to leave the stage prematurely every now and again, but for the most part, the nearly 50-year-old men of New Edition haven't missed a step in their 30-plus years of touring the nation and giving fans all they have. The two-steps remain on beat. The moves are as precise and crisp as ever, and their voices have stood the test of time. That's why NE continue to sell out venues when they come to town.

8. Music, Music, Music
It might be hard to choose your favorite track from the New Edition, BBD, Ralph Tresvant, Bobby Brown and Johnny Gill musical catalogs, and part of that struggle has to do with the number of hits credited to the crew, hits that span decades. It's hard to pit "Poison" against "If It Isn't Love," or "Do Me!" against "My Prerogative," or "Wrap My Body Tight" against "Cool It Now." The inability to select just one favorite is a testament to the talent of the collective. Even for those among us who have outgrown our crushes on the members or who can't appreciate the fellas' overwhelmingly clean-cut image (stage humping aside), the music can't be denied.