Long before the hashtag went viral, the Black Girl Magic that women of color exude has been omnipresent in the actions of both everyday and famous ladies alike—from the single mother who selflessly puts family before herself, to the fierce sisters who proudly rock their natural hair in all its glory, the brave activists like Johnetta Elzie and the sheer artist that is Beyoncé.
This summer we will all witness this magic on an international stage as female athletes from around the globe compete during the Olympic games in Rio de Janeiro. Of course, there will be amazing performances from male competitors as well, but Black Girl Magic is all about the ladies. Here, eight female Olympians share what the term means to them and how they plan to exemplify that in Rio.

1. Maya Moore
"When I think of Black Girl Magic, I think of an inner strength, a quiet confidence at times, but someone who is going to stand up for truth and strength in a beautiful way. The ways I try to live that out are how I carry myself on and off the court, whether that's speaking out for something that is meaningful or fighting against injustice. I have a close connection with a movement called End It, so I try to use my voice to speak out for men and women, boys and girls that are stuck in modern-day slavery. [My Black Girl Magic] comes from that quiet confidence and inner strength when I'm on the court. I like to play not in a super flamboyant way, just in a quiet, consistent confidence that shows through my game." —Maya Moore, three-time WNBA All-Star and 2012 Olympic gold medalist

2. Tori Bowie
G/O Media may get a commission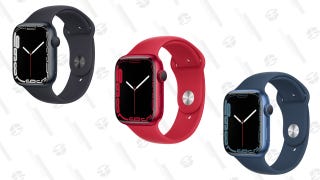 Up To $45 Off
Apple Watch Series 7
"I embody Black Girl Magic by being in a training group and having to accept being a woman amongst a male-dominated industry. It's not always easy to stand out in a heavily saturated industry, where the faces usually don't resemble yours. Personally, I embody Black Girl Magic by owning my race and gender. No matter where I am or what I am doing, I wear my color and gender with pride … every single moment I step out on the track. I feel powerful, capable and proud to represent black girls." —Tori Bowie, 2015 NCAA champion, long jump

3. Michelle Carter
"The most inspiring [Black Girl Magic] moment I've seen has to probably do with Michelle Obama becoming the first lady, or Serena Williams over the years. It's inspiring how she has been able to take the criticism. There have been many times when people have talked down to her and talked about her, but she was still able to do what she does and not feel bad about it.
"My Black Girl Magic is in my versatility. One thing that I love to do in sport is change my hair. Having the ability to look different every time I compete if I want to is Black Girl Magic. In life and in sport, just being able to adapt and keep pressing forward no matter what is going on around me is magic. It's being unapologetically you and being the best you you can be." —Michelle Carter, two-time Olympian, shot put

4. Shamier Little
"Black Girl Magic is what makes a black girl shine—it's her confidence that is magical. It can come in all forms, from hair, skin, health and personality. I think black girls possess a beauty unlike any other, and I love the all-natural movement that is going on within our community because it is bringing out wonderful results that we didn't get while we were younger. And it's teaching the younger generation to love themselves without all the unnecessary products that were used to change us and get us to conform to ideal beauty standards." —Shamier Little, 2015 NCAA champion, 400-meter hurdles

5. Ajeé Wilson
"Since we do not always feel represented or valued in the world, Black Girl Magic is a way to encourage black women to recognize their potential, beauty and immense worth. One of the most inspiring Black Girl Magic moments I've witnessed was at the 2014 USATF Outdoor Championships, where Alysia Montano toed the line to race eight months pregnant! Not only was her running a display of the strength of womanhood, but [it] also was one of the most inspiring examples of Black Girl Magic I've ever seen.
"Like Alysia, I display my Black Girl Magic through running, and I take a great responsibility in doing so. In America, black women have the highest rates of inactivity across all demographics, which is a leading risk factor in cardiovascular disease and dozens of other conditions. I hope when black girls of all ages see me on the track, they see some part of themselves and become motivated to get out there and get moving!" —Ajeé Wilson, 2014 USA Outdoor champion, track and field

6. Ashleigh Johnson
"Black Girl Magic refers to a black girl or woman's ability to realize her own potential and continuously strive towards being the best version of herself, which provides an example of excellence for the world to see and for other black girls to realize their own potential to achieve greatness. An inspiring moment that I personally experienced was when we were in Holland for our Olympic qualifier and a little black girl named Ashira came to our practice and followed all our games throughout the tournament. Every time I saw her around the pool with her mom, she would say, 'Just wait a few years; I'll be right there playing with you.'
"I thought it was inspiring that this little girl and her mom could already imagine her being successful at the highest level of water polo when Ashira was only 11, because when I was that age, I didn't even think about playing water polo past my next tournament. Right now I feel like my life is a good example of Black Girl Magic just because the recognition that my team has received for its success has put me in a good position to be a role model for younger girls who would want to be where I am someday." —Ashleigh Johnson, 2014 FINA World Cup, gold, water polo

7. Alysia Montano
"Black Girl Magic means recognizing my power as a woman; it is knowing my worth and applying it. Black Girl Magic to me is the force that puts you in a position of success and achievement; it is a point of recognition that I am being the best version of myself, that I am making an impact, and that I am capable as a black woman to be known not just as that but as a woman across all races and genders as an inspiration and influencer.
"I embody Black Girl Magic by taking that recognition of self-worth with me every day, realizing that I control my own destiny and that I can conceive anything amazing, and I truly believe it. I have the world at my fingertips to put steps into place to achieve it. All of my goals are attainable." —Alysia Montano, six-time USATF Outdoor champion and 2012 Olympian

8. Brittney Reese
"As an Olympic gold medalist, I travel all over the world to represent USA and I take deep pride in that, but as a black woman, nothing brings more joy to my heart than mentoring young black girls. When I get booked to speak words of empowerment to groups of black women and girls, I want them to know the power they have inside each and every one of them to be great!
"Although I am an athlete, I have two college degrees and I'm [working] on my master's, so I encourage black girls to pursue their education in one form or another, whether it's a four-year degree or going to a vocational school to learn a trade. The key to their success is becoming qualified to pursue whatever goals they have. Knowing their self-worth and not settling for mediocrity—that's my definition of Black Girl Magic." —Brittney Reese, six-time World Champion and Olympic gold medalist
To learn more about all Olympic hopefuls, visit Teamusa.org. The Olympics begin Aug. 5 on NBC.

Anslem Samuel Rocque is a Brooklyn, N.Y.-based writer who previously ran the popular relationship site Naked With Socks On. He's currently wearing way more clothes while working on his debut novel. Follow his thoughts in 140 characters or less on Twitter and on Instagram.