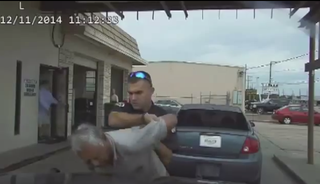 The Victoria, Texas, Police Department is conducting an internal investigation after one of its officers allegedly used a stun gun on a 76-year-old man during a traffic stop, the Victoria Advocate reports.
Officer Nathanial Robinson, 23, is reportedly on administrative duty following the Thursday incident, during which, it is alleged, he violated the department's policy on the use of force while arresting Pete Vasquez.
The encounter began after the cop, who joined the force after graduating from the police academy two years ago, stopped Vasquez because of an expired inspection sticker on the car the older man was driving. Vasquez was driving the car back to the car dealership where he does some mechanical work, the Advocate notes.
Vasquez exited the vehicle, which the Advocate reports is owned by the car lot, and tried to get the dealership's manager while he explained to Robinson that there were dealer tags on the car, which would make him exempt from the inspection.
Nevertheless, Robinson is seen in a dashboard camera video arresting the older man, whom he grabbed by the arm and pushed into the hood of the cruiser. Officers say that after the two men fell out of the frame, Robinson tasered Vaquez twice while he was on the ground.
"He just acted like a pit bull, and that was it," Vasquez told the Advocate. "For a while I thought he was going to pull his gun and shoot me."
Police Chief J.J. Craig said that the department was looking into the incident because the video footage "raises some concerns": "Public trust is extremely important to us," he told the news site. "Sometimes that means you have to take a real hard look at some of the actions that occur within the department."
If Robinson is found to have gone against department policy, his punishment could range from a formal written reprimand to unpaid suspension to being fired, Craig told the news site.
A witness to the incident, Larry Urich, the car lot's 62-year-old sales manager, said that he was disturbed by the arrest. "I told the officer, 'What in the hell are you doing?' This gentleman is 76 years old," Urich told the Advocate. "The cop told me to stand back, but I didn't shut up. I told him he was a g—damn Nazi storm trooper.
Urich said that he wanted Robinson fired and prosecuted for harming an elderly person. "He's probably a good family man, but you don't treat people like that," he added. "I don't see how in the world anyone would think he should keep his job after that."
As for Vasquez, he told the Advocate that he felt his rights were violated. "The Police Department is supposed to train their police officers to be more conscientious and use common sense. I don't think he had any," the older man said.
Read more at the Victoria Advocate.