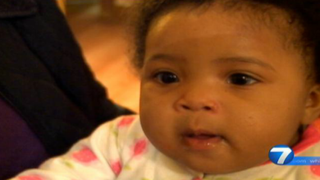 Consider it a miracle.
On Monday, Ohio mother Lashanda Goldsmith; her 7-month-old daughter, Madison; and a 15-year-old girl were in a van when a car ran a red light, crashing into their vehicle and sending Madison flying through a window.
According to WHIO, rescuers found Madison, who was strapped in her car seat, facedown, some 25 feet away from the accident. They feared the worst when they turned the car seat over and Madison's eyes were closed. But the baby girl stunned everyone when she opened her eyes and smiled.
Madison left the hospital later that afternoon with only a bruise on her head.
"God does not make mistakes," a relative of Madison's, Rhonda Moody, told WHIO. "I tell people that all the time. When things happen, it's all in his will."
Read more at WHIO.