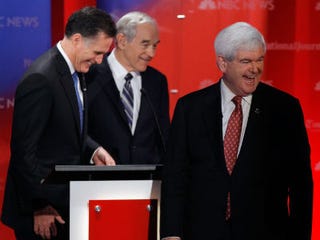 Compared with last week's debate in South Carolina, the exchange in Florida last night was a snooze fest. The candidates were nearly as subdued as the audience, who honored NBC News moderator Brian Williams' request for silence … perhaps a little too much. There weren't even any notable throw-black-people-under-the-bus highlights (that's a shocker in itself, from this group).
If you missed it or dozed off in the middle, here are the six highlights, according to Politico:
1) Mitt Romney landed some blows on Newt Gingrich.
2) Gingrich was playing defense.
3) The crowd silence altered the chemistry in the room.
4) Rick Santorum is trying to rise above the fray.
5) Ron Paul was playing for laughs.
6) Everyone seemed tired.
Read more at Politico.
Like The Root on Facebook. Follow us on Twitter.