Today marks 19 years since American music lost one of its greatest poets and lyricist: the Notorious B.I.G.
Here are a few songs and moments that demonstrate why Biggie has gone down as one of the most beloved and cherished creatives in this nation's history.
1. His storytelling in "Warning."
Biggie's storytelling was impeccable. Bar none. In fact, he inarguably made it a mandatory category in discussions about the greatest rappers of all time: whether or not said rapper could tell a multifaceted story, from beginning to end, in one song.
In "Warning," he walked us through a step-by-step account of receiving a phone call at 5:36 in the morning from your homeboy, who was putting you on to how some friends-turned-haters were plotting to rob you. We've all had to wipe the crust from our eyes and become real alert to a phone call from a friend or family member at some ungodly hour. Biggie deviated from rapping about the norm and just talked about reacting to news of a pending betrayal. 
2. "Juicy" was the original anthem for "Started From the Bottom, Now We're Here."
G/O Media may get a commission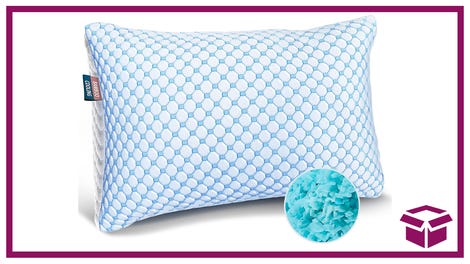 23% off
Nestl Cooling Pillow - Queen Size
And Biggie really started from the bottom. He came up in the working-class streets of Bed-Stuy, Brooklyn, N.Y. A dark-chocolate, heavyset black man with a lazy eye and a Jamaican immigrant for a mother. And boy, did he make it—and he made sure to celebrate his success with everyone. He did that in "Juicy."
He described how it was a beautiful thing to see how his success put a smile on his mother's face.
3. He smiled at the two-minute mark in the "Hypnotize" video.
It was golden because by most accounts, Biggie was a funny, silly guy, but cameras rarely caught him smiling. This video did.
4. His freestyle one-two step during this performance of "Get Money" alongside Jay Z.
Here's Biggie, free-form, at the renowned Palladium nightclub in Queens, N.Y. Biggie is onstage, Damon Dash is onstage. It was the golden era of 1990s music, before smartphones. And here we have this golden clip of Biggie in his own world, getting his two-step on right before going into his verse on "Get Money."
Peep Jay Z and everybody hyping him up: "Go, Biggie! Go, Biggie!"
5. The vulnerability it took to convey his life's purpose in "Sky's the Limit." 
Biggie revealed the essence of who he was and the message he wanted to convey in his music in "Sky's the Limit."
He was motivating: "Stay far from timid, only make moves when your heart's in it and live the phrase, 'Sky's the Limit.'"
And lest we forget the aspirations he had for his daughter: "Get my daughter this college plan, so she don't need no man"—a line that articulated the concern that men, too, have about wanting their daughters to do well and not get sidetracked by men with premature intentions.
We could go on and on. My favorite moment is his acting debut in this episode of Martin, where he played himself but still showed how good an actor he was:
Rest in peace, Big Poppa.
For more of black Twitter, check out The Chatterati on The Root and follow The Chatterati on Twitter.
Diana Ozemebhoya Eromosele is a staff writer at The Root and the founder and executive producer of Lectures to Beats, a Web series that features video interviews with scarily insightful people. Follow Lectures to Beats on Facebook and Twitter.
Like The Root on Facebook. Follow us on Twitter.