Six police officers charged in the death of Freddie Gray were released from Baltimore's Central Booking and Intake Center on Friday night after posting bail, court records show, according to the Baltimore Sun.

The four officers facing felony charges posted $350,000 bails; the two facing misdemeanors posted $250,000 bails, the Sun writes.
The news comes after Allen Bullock, 18, who was captured in photos smashing police-car windows with a traffic cone, surrendered to police this week at the urging of his parents. And as of two days ago, he was being held on $500,000 bail, an amount his parents could not afford.
Differences between the bail amounts set for Bullock and for the officers highlight disparities in the nation's criminal-justice system and underscore complaints by protesters who took to the streets after Gray, 25, died of a spinal injury suffered while he was in police custody on April 12.
Bullock, who was one of those protesters, faces charges of rioting and malicious destruction of property, alongside other criminal counts.
G/O Media may get a commission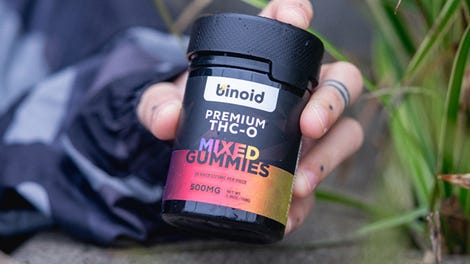 25% Off + Free Shipping
Binoid THC-O Gummies
Each of the officers charged in Gray's death faces multiple charges, the highest of which is second-degree depraved-heart murder, a felony that carries a maximum penalty of 30 years in prison. All six are charged with second-degree assault, a misdemeanor that carries a maximum penalty of 10 years, reports the Sun.
The names of the officers, whose mug shots were also released late Friday, are Officer Caesar R. Goodson Jr., 45; Officer William G. Porter, 25; Lt. Brian W. Rice, 41; Sgt. Alicia D. White, 30; Officer Edward M. Nero, 29; and Officer Garrett E. Miller, 26.
What do you think? Should Bullock's bail be lowered? Let us know your thoughts in the comments section.
Read more at the Baltimore Sun.