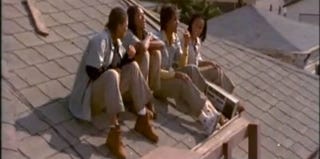 (The Root) — Who would have thunk it? Set It Off — the 1996 heist film starring Queen Latifah, Vivica A. Fox, Jada Pinkett Smith and Kimberly Elise — beat out Dead Presidents, Superfly and Django Unchained in our March Movie Madness bracket. Color us clueless, but in our office pool, we had no idea the film would make it to the Elite Eight round. (We're still trying to figure out how it beat Superfly, which is practically its own black cultural institution.)
While the film doesn't have the kind of cult following as, say, Love Jones, it did teach us some valuable lessons that we should not soon forget.
1. Trick Modestly
If you want to see what's hot on black Twitter, check out The Chatterati.Akoto Ofori-Atta is the editor of The Grapevine. Like her Facebook page and follow her on Twitter.