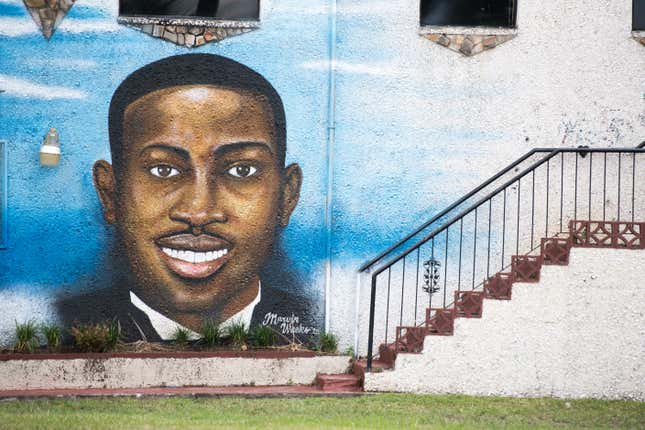 The Department of Justice has charged three men accused of killing Ahmaud Arbery with hate crimes.
This Juneteenth We Revisit The Anderson .Paak BLM Track "Lockdown"
Travis McMichael, 35; his father, Gregory McMichael, 65; and William "Roddie" Bryan, 51, were indicted Wednesday for targeting and threatening Arbery because of his race.
In February 2020, Arbery was running down the street in Brunswick, Ga., when Travis and Gregory McMichael, both armed, got into a truck and chased Arbery and started screaming at him. Bryan eventually joined them in his vehicle and all three tried to detain him without any legal authority whatsoever, according to prosecutors. The McMichaels claim Arbery was a burglar running through their community, even though they never saw him steal anything.
The father and son are already facing murder and aggravated assault charges in Georgia. Both men were arrested in May 2020—more than two months after Arbery's killing—after video of the incident was made available to the public.
Here is more background on the case, per USA Today:
A special agent with the Georgia Bureau of Investigation told investigators last year that he heard Travis McMichael call Arbery a racial slur as he laid on the ground with gunshot wounds.

Local prosecutors had initially refused to file murder charges, drawing widespread anger from community leaders who accused authorities of allowing Arbery's killers to remain free.

Arbery's death, along with those of George Floyd and Breonna Taylor, who died during situations with police, fueled months of racial justice protests around the country.

The Biden administration has promised to prioritize the protection of civil rights. Citing an "urgent" need to reset hate crime enforcement strategy, Attorney General Merrick Garland, has launched a 30-day review to assess the government's tracking capabilities and prosecution of hate crime offenses that are surging across the country.

Benjamin Crump, one of the attorneys representing Arbery's family, said that the charges were an "important milestone in America's uphill march toward racial justice.

"Today is yet another step in the right direction as we seek justice for Ahmaud Arbery and his grieving family by holding those responsible for his death accountable to the fullest extent of the law," he said in a statement provided to USA TODAY.
Wanda Cooper-Jones, Arbery's mother, told the New York Times she and her family were grateful for the indictments. She is disappointed that it took so long but she said, "we never gave up hope."
"He was killed because of hate. It was initiated by hate," Cooper-Jones said. "We look at this as one step closer to justice for Ahmaud."