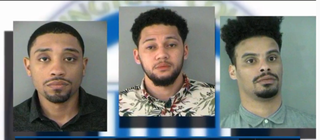 Arlington County, Va., police arrested three men after they allegedly attacked an Uber driver with a beer bottle Saturday night, WUSA9 reports. 
According to the report, the Uber driver was carrying six people, who then proceeded to open alcoholic beverages, even though the driver asked them not to. The driver terminated the trip, pulling over and asking the passengers to exit the vehicle. Three suspects, however, went back to the car to to get their belongings and got into an argument with the driver. The Uber driver was then hit with a beer bottle and had his car window shattered by the three suspects. 
Justin Allen Norconk, 26; Jeffery Eugene Rowe Jr., 26; and Lance Daniel Ingram, 25, were arrested in the incident. The Uber driver reportedly sustained cuts to his face and a bump on his head. 
Norconk was charged with malicious wounding and assault by mob. Ingram was charged with assault by mob, and Rowe was charged with destruction of property. All three men are being held without bond. 
Read more at WUSA9.