When they won't honor you, honor yourself. And that seems to be the purpose of the second annual Truth Awards, which were held last week in Los Angeles. The event celebrated self-identifying African-American members of the LGBTQ community whose accomplishments have had a positive impact on the perception of black LGBTQ representations. 
The annual award banquet, which was made possible by actress Sheryl Lee Ralph; her organization, the DIVA Foundation; and Better Brothers Los Angeles, didn't need envelopes to announce award winners because all of the names called out during the event were winners.
"It's important that we uplift and recognize the accomplishments of African Americans in the LGBTQ community who are living their lives unabashedly out loud and openly for all the world to see," says Ralph. "Hopefully, by celebrating the courage of these gay, lesbian and transgendered individuals, we will encourage, inspire and motivate others to live their truth." 
Honorees included the following:
Bishop Yvette A. Flunder—Lifetime Achievement Award: Flunder serves as the founder and senior pastor of City of Refuge United Church of Christ and is the presiding bishop of the Fellowship of Affirming Ministries. A native of San Francisco and a third-generation preacher with roots in the Church of God in Christ, Bishop Flunder is ordained in both the United Church of Christ and the Metropolitan Community Church. She has successfully united the message of the gospel with social-justice ministry and action for more than 30 years. In 2014 Bishop Flunder was the keynote speaker for the 26th anniversary of World AIDS Day at the White House. Last year she was also named the 2015 Spiritual Hero in the January issue of Science of Mind magazine, published by the Centers for Spiritual Living.

G/O Media may get a commission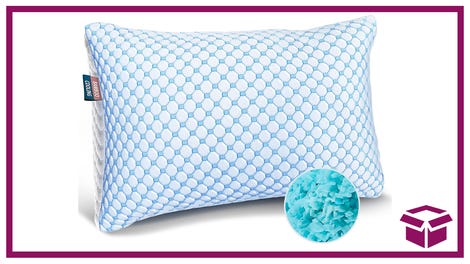 23% off
Nestl Cooling Pillow - Queen Size
Aaron Walton—Lifetime Achievement Award: Walton is co-founder of Walton Isaacson, a full-service advertising agency, with offices in Los Angeles, Chicago, New York City, Miami and Tokyo. Walton's boundless creativity and strategic acumen have made him one of the most admired executives in the worlds of advertising, brand marketing and entertainment. He was selected by Out magazine as its 2014 Innovator of the Year, named to Ebony magazine's 2013 "Power 100" list and picked by Out magazine as one of the 100 most compelling people of 2010, just to name a few of his accolades. Under Walton's leadership, WI was named Advertising Agency of the Year by Black Enterprise in 2015 and one of the Small Agencies of the Year in 2012 by Ad Age magazine. Also, WI made the 2014 "Inc. 5000" list, the magazine's ranking of the fastest-growing private companies in the U.S. Walton has won a plethora of advertising and creative awards, including the industry's prestigious ADCOLOR Advocate Award. 
Judge Darrin P. Gayles–History Maker Award: Gayles is a U.S. district judge for the Southern District of Florida. President Barack Obama nominated Gayles for the U.S District Court on Feb. 6, 2014. On June 17, 2014, the Senate confirmed the nomination by a 98-0 vote. When Obama signed his commission, Gayles became this nation's first openly gay African-American man to serve on the federal bench. Gayles has been the recipient of numerous awards, including the 2015 Lawyers in Leadership Award from the University of Miami's Center for Ethics & Public Service; the 2015 Equal Justice Judicial Leadership Award from the Legal Services of Greater Miami; and the 2015 Thurgood Marshall Leadership Award from the National Black Caucus of Local Elected Officials.  

Gerard McCallum II–Business Leadership Award: McCallum is the senior project manager at the San Francisco-based development firm Wilson Meany. He is responsible for the entitlement of the 298-acre Hollywood Park Tomorrow project, which includes the 75,000-seat NFL specification stadium and the 6,000-seat concert entertainment venue that will be set among a mixed-use retail and residential complex. He serves on various boards, including the board of commissioners for both the California Association of Local Agency Formation Commission and the Local Agency Formation Commission of Los Angeles County.
The Rev. Jenenne Macklin–Mentor Award: Macklin is a motivational speaker, a voice of empowerment and a catalyst for transformation for those who seek to create a life of abundance, fulfillment and success. Her commitment stretches from having been associate pastor at Unity Fellowship of Christ with Bishop Carl Bean in the 1990s to leading her own spiritual community, Living in the Light Ministry, where she officiated for more than 15 years. In 2011 she founded Consciously Creating Your Life to transform, inspire and empower others, hitting the speaking circuit and sharing the stage with other prominent life coaches like Lisa Nichols. A Les Brown Platinum speaker, Macklin is a powerhouse, touching large and small audiences with her own blend of knowledge, wisdom and experience. Using gentle nudges, she challenges her audiences to live their best lives and delivers practical strategies for success. 
Gregory Bunn and Demetrius McCoy–Mentor Award: Bunn and McCoy are humanitarians and founders of the nonprofit family-support group Angels Plight. Angels Plight partners with other community organizations, like the American Red Cross and A Place Called Home, to help families in need—from distributing holiday cheer and feeding the homeless to visiting children's hospitals and supporting women and children's shelters. Working in the trenches, both Bunn and McCoy assist individuals in the rehabilitation, redirection and restoration of their lives and offer a pathway to a life without drug abuse or destructive lifestyles. Together for more than 20 years, Bunn and McCoy took in three foster children (siblings), and raised them as their own.
Darryn Harris–Passing the Torch: Harris is an individual of extraordinary talent, passion and commitment to social and economic justice, sparked by the 1992 Los Angeles civil unrest. Harris currently serves as the director of External Affairs to Rep. Karen Bass (D-Calif.), a role for which he draws upon his experiences as district director in the California legislature. He is an active member of Alpha Phi Alpha Fraternity Inc. and a New Leaders Council alumni, and he proudly serves as caucus chair of the California Young Democrats, as well as the founding president of the Black Los Angeles Young Democrats.
To learn more about the Truth Awards and its honorees, visit Better Brothers Los Angeles.