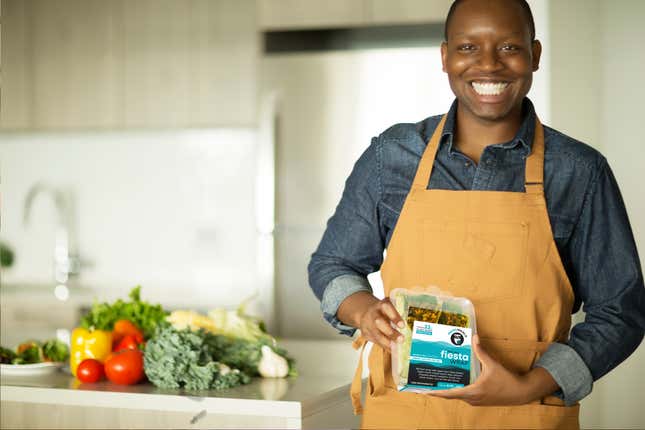 Yes, I stayed vegan throughout the Labor Day weekend (so, sadly, no barbecues for me on the unofficial last weekend of summer). And yes, I'm ready for this 22 Days experiment to be over—not because I hate plant-based eating (quite to the contrary—it's fine), but because I'm faced with the reality that my current 'can't stop, won't stop' lifestyle and fitness goals don't exactly suit this particular lifestyle change—at least, not full-on Beyoncé-style. Honestly, doing this program well and for weight loss requires some dedicated cooking time, which is rarely on my side. And as it turns out, full-time veganism may not exactly suit me, either, as, despite my best efforts and ample supplements, my anemia is unfortunately once again spiking.
Small Town Horror Story: The Vietnam Veteran Who Refused To Leave A Man Behind
Plus, if I'm honest, I'm shamelessly craving animal protein (at least, a couple of times a week)...and no Impossible Burger on earth can save me.
But in the midst of an otherwise bland holiday weekend (copious amounts of salsa verde be damned), there was one saving grace that, at 22 grams of protein per serving, also kept me feeling level as I continued to ride out these last few days.
The product? LaForce Baker's Moon Meals Fiesta Wrap, a ready-made refrigerated burrito with a surprising satisfying flavor profile...the kind you come back for again and again. I first became aware of Baker as one of four honorees at Janelle Monáe's "Night Brunch" a month ago in Chicago; as a local entrepreneur, the self-taught chef was lauded for making healthy food an option for some of the city's most underprivileged communities. As Baker told The Glow Up, it was a mission that began when he battled childhood obesity.
"I grew up on the far south side of Chicago in what is considered a food desert—and still is—essentially meaning there was not regular access to like fresh quality meals and produce," Baker recalled. "If I wanted to grab something quick, typically I was going to a gas station or I'm going to a corner store; we didn't have any big grocery stores really close to my house within walking distance. And so, because of that, I ended up being a pretty fat kid; I just didn't have access to a lot of healthier options."
Now a long-distance runner, Baker also struggled to find ways to get fit in an area that wasn't always the safest to play outside. But while helping his grandparents tend the organic garden they grew in the back of their home, he began to experiment with cooking healthy meals—and found a love for running as he joined a friend training for baseball.
"I couldn't run a block but I started doing that, and between that and cooking I started losing some weight," he shared.
Baker would go on to become a communications major, eventually working for large food companies—including Kraft, Conagra Brands, and Nestlé—to help them launch new products. But he soon found his commitment to health at odds with his occupation.
"I kind of felt a cognitive dissonance, because that was the food that used to make me fat as a kid," explained Baker, who has to date run three marathons and six half-marathons. "I wanted to be able to give other people the option to eat the diet that I was eating, who maybe didn't have a whole lot of money or didn't have a whole lot of time," he continued, noting that even as a self-trained chef, he often doesn't have time to cook. "I literally live in the problems of my customers."
For six months, Baker saved half of every paycheck, liquidating his 401K and maxing out credit cards to start Moon Meals, where he worked with nutritionists to create on-the-go, quick, tasty, and most importantly, healthy options. The Fiesta Wrap quickly emerged as the brand's flagship product.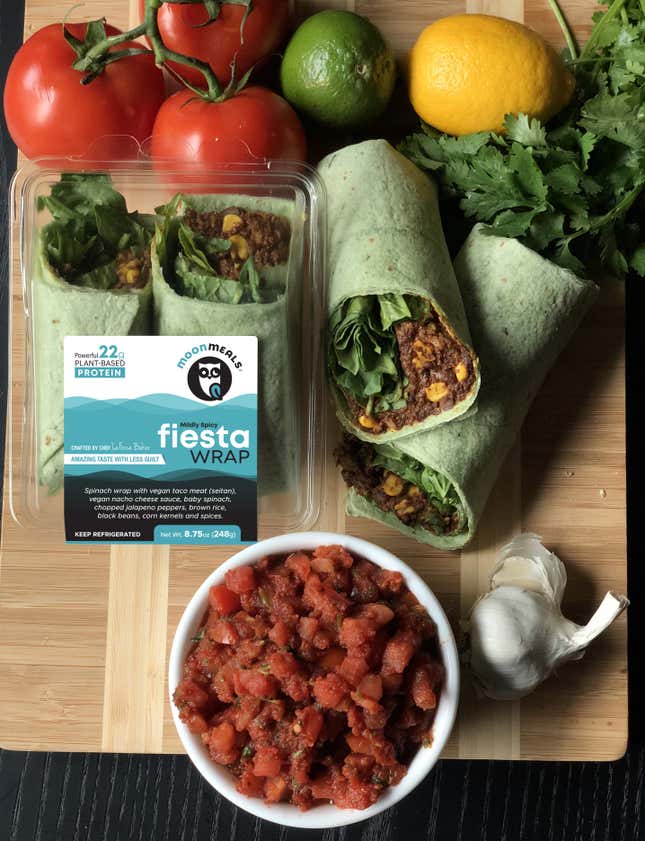 Billed as "a healthy burrito," the wrap first appeared in small coffee shops, quickly outselling non-vegan options. After a year, the brand gained its first major retail chain partnership with placement in three of Chicagoland's Jewel-Osco stores. Now, Fiesta Wraps are delivered fresh several times weekly to 200 locations in Illinois, Indiana, and Iowa—many of which are in predominantly black neighborhoods—and the wraps regularly fly off the shelves.
I know this because it took me three tries to get my hands on one at my local Jewel (okay, I bought two). Within days, I was back for more. This was the complex and deeply satisfying flavor profile my 22 Days diet had been missing. (Have I mentioned my enduring love for any food remotely Mexican in flavor?)
But aside from being absolutely delicious, the Fiesta Wrap features an entire serving of vegetables, combined with Baker's proprietary blend of vegan meats (soy-free), cheeses and sauces, which he took a year to develop. And yet, Baker says 80 percent of Moon Meals' consumers aren't even vegan.
"We regularly try to talk to our customers, and the number one thing we hear from them is that they hear about this vegan thing is better for them, but they don't know where to start. They fear it's really expensive...but they look at our products, and they say, 'wow, that's something that has really taken the guesswork out of even trying a vegan meal'...We've really taken that guesswork [out] and we've made it really accessible from a price point of view, because it's only $6.99, so it's a pretty low barrier to entry."
"I think beyond that, the number one thing people say is that they just love the taste," says Baker. "When you eat it, you don't feel like, 'that was great for a vegan option.' You think, 'that was great for a burrito.'
And yes, I did.
But while the Fiesta Wrap will be heading to Whole Foods this fall and tripling its current distribution by the end of 2019, it's only the pinnacle of Moon Meals' mission. The company predominantly employs women and people of color (with a benefits package comparable with Fortune 500 companies), and offers a free and growing guide to vegan recipes, promoting predominantly female vegan bloggers, via its website.
"We're literally feeding people better food," Baker tells us, "but also, we're feeding people economically by giving them jobs so that they can be able to provide for families and revitalize communities."
"We want to be a resource for people, so our product is really just an entry point," Baker continues. "The number one thing that kills African Americans in this country is not bullets; it's complications from preventable diseases [like] hypertension and diabetes. So, if we can change the way we eat, we can drastically improve our life expectancy; I think that also, we can drastically improve our quality of life...I see this food as preventative medicine."