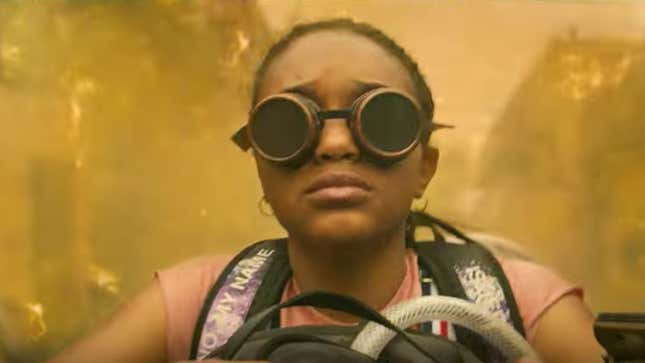 Benjamin Franklin famously noted there are only two things certain in life: death and taxes. See You Yesterday unravels the former.
Tackling A Black Maternal Health Crisis & Embracing Reproductive Justice | The Root Institute
Police brutality snatches the lives of the powerless in what has felt like an endless loop in the black community. Imagine: one day, you're blessed with the gift of power to possibly change that narrative for the better. Stefon Bristol's feature film directorial debut, See You Yesterday, asks the question: What do you do with that power? And how do you reconcile the uncontrollable consequences that come with it?
A synopsis of See You Yesterday, from a press release via Netflix:

High school best friends and science prodigies C.J. and Sebastian spend every spare minute working on their latest homemade invention: backpacks that enable time travel. But when C.J.'s older brother Calvin dies after an encounter with police officers, the young duo decide to put their unfinished tech to use in a desperate bid to save Calvin.
As one of my most anticipated films on the 18th Annual Tribeca Film Festival schedule, I was very excited about attending the world premiere.
Bristol (who also co-wrote the film), co-writer Fredrica Bailey, stars Eden Duncan-Smith (Claudette "C.J." Walker), Danté Crichlow (Sebastian J. Thomas), Brian "Stro" Bradley (Calvin Walker), Marsha Stephanie Blake (Phaedra Walker), Wavyy Jonez (Dennis Owens), Johnathan Nieves (Eduardo), and composer Michael Abels (whose gripping work you've heard in Get Out and Us) attended the premiere. The red carpet was bubbling with love and support, including an extra-special moment with Bristol and his family.
"[See You Yesterday] came from me just loving sci-fi and black people," Bristol told The Root on the premiere red carpet, "and on the unfortunate murders of Mike Brown and Eric Garner."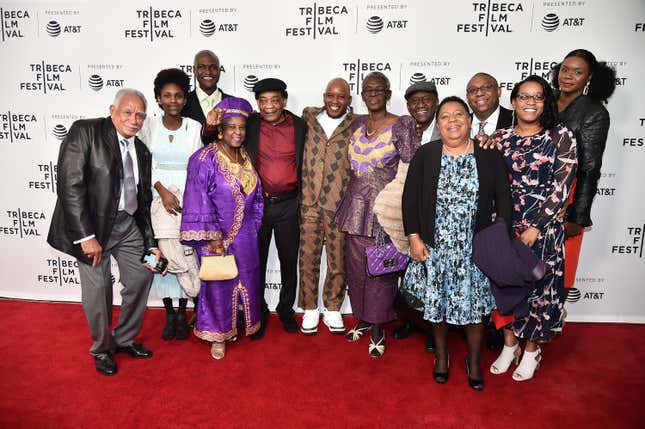 In addition to being a heartwarming tribute to the victims of police brutality, See You Yesterday is a celebration of STEM.
"We were really adamant about making sure that people understood that we have kids in our community that are into science, that are into math, [and] to inspire those that perhaps aren't considering those fields," co-writer Bailey said to The Root. "And to also have those that are into those things see themselves reflected on the screen. That was something that we were just really wanted to show—that these guys are geniuses."

Set in East Flatbush, Brooklyn, See You Yesterday is joyfully black in such a natural way, it's a breath of fresh air. But once you release that breath, you find yourself holding it again as the pain and grief grips the community, following Calvin's death at the hands of police. Successfully juxtaposing a morose tone with humor isn't an easy feat, but Bristol manages to make it work in the best way, especially in the delightful banter between C.J., Sebastian, Eduardo, and Calvin.
Deftly interwoven between desolate scenes are moments of levity and fun, including a gasp-inducing cameo by Michael J. Fox, a well-done nod to his stint in Back to the Future. Great Scott!
Sure, there can be the typical head-scratching when trying to navigate a film's specific rules regarding the inner-workings of time travel. But do the theoretical issues trump the emotional resonance? Do they adversely change the way this film made me feel? I'd say not.
The standout of the film is none other than Duncan-Smith—whose face I remember from the first season "Thanksgiving" episode of Master of None, where she portrayed the teen version of Lena Waithe's Denise. Duncan-Smith masterfully fuses vulnerability and ruggedness, creating a perfect emotional chemical reaction in her audience. You can't help but immediately fall in love with her snarky sensibility, all the more colored by the trauma she has to endure, the desperate determination that follows, and her heartbreaking reconciliation with the inevitable.
Cinematographer Felipe Vara de Rey is a highly capable partner in cinema to Bristol's direction as he flexes a wonderful 360-degree transition shot during one of the film's striking funeral scenes. And yes, there's a nice dolly shot nod to Spike Lee, who also serves as a producer on the film.
Bristol, a protegé of Lee, has known the iconic Academy Award winning New York native for "eight [or] nine years" and told The Root that the process of Lee latching on as producer was "seamless."
During a Q&A following the film, the cast and crew talked to a packed house about the film's origins (Bristol and Bailey wrote the film at NYU during the summer of 2014), the messages within the film and the lessons we can take from it moving forward.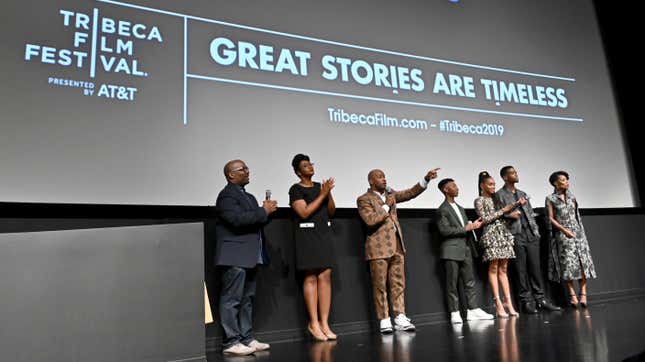 See You Yesterday may be science-fiction, but the inciting incident sparked by police brutality is very real.
"I think our main goal is just to continue the conversation of police brutality," Bailey told The Root. "As a society, we have a tendency sometimes—things kind of ebb and flow and then they disappear, so Stefon and I just really want to bring this back to the forefront and just say 'hey, while we're tackling all these other worthy issues, also remember that these are problems in our communities, and it's still something that we need to focus on and find a solution to'."

The film, which played in Tribeca's Viewpoints section, was a runner-up in the festival's Audience Awards.
See You Yesterday will be globally released on May 17, exclusively on Netflix.