As 2018 gets ready to make her final curtain call curtsy, 2019 is about to strut onto the stage with a fierceness rivaling your favorite diva.

We've looked back; we're looking forward. Back back, forth and forth. Since President Processed Cheese is still in office, there may not be much to look forward to in reality, but that's why escapism exists. Ashé. As such, I wanted to give shine to a few projects in film and television to look forward to in the year of our Lord, 2019.
Five, each. I got five on it, indeed.
The silver screen is up first. Side note: For years, I thought television was referred to as the "silver screen" when it's really for the movie industry. I thought TV was "silver" since it was thought of as the lesser medium in the olden days, despite no one ever fucking saying "gold screen" for film. God knows my heart.
Here are five films worth sneaking in an entire meal into the theater for. Shhh.
1. Us
Thanks to Jordan Peele, your entire association with Luniz's "I Got 5 On It" is forever changed. Never would anyone think an Oakland, Calif,. '90s rap song would be chopped and screwed for a horror film, yet here we are. That trailer had everyone crunching numbers and counting on their fingers to analyze the film's meaning, so "anticipated film" is an understated phrase here.

G/O Media may get a commission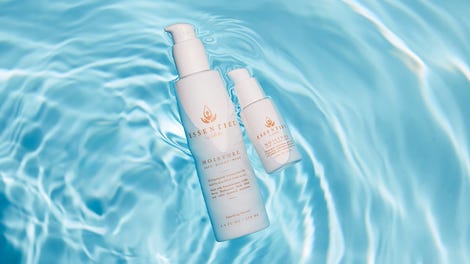 20% off
Essentiel by Adele
Us creeps into theaters on March 15, 2019.
2. Native Son
Two words: Ashton Sanders. The young homie has had a killer film career debut, winning our hearts as teen Chiron in Barry Jenkins' Moonlight. Based on the Richard Wright novel every socially conscious black person has either read or has on their to-read list, Native Son will serve as the black coming-of-age story of the year. Plus, the South Side, Chicago native in me is screaming for what should be yet another beautifully cinematic exploration of my city. Shoutout to Widows.
Native Son will progress into theaters on January 24, 2019.
3. Dolemite Is My Name
For fans of Dolemite, the story of the man behind the legend, iconic 1970s blaxploitation star Rudy Ray Moore is coming to the big screen. Not to mention the movie looks like it'll be rife with black excellence in comedy. Eddie Murphy, Keegan-Michael Key, Wesley Snipes, Craig Robinson, Chris Rock, Tituss Burgess...the list goes on. It really looks like every black man who has ever made someone laugh may be in this. We're not only rooting for everybody black, we're going to see them all onscreen at the same damn time.
The exact date isn't known yet, but Dolemite Is My Name will fuck up motherfuckers on Netflix in 2019.
4. Queen & Slim
Look—as soon as I saw the premise, I was here for it. It's so timely: A black man and a black woman are on their first date. They're pulled over by a police officer. Instead of the "I shot the black person in self-defense" lying-ass-lie we're unfortunately used to in reality, the black couple kill the police officer in self-defense and go on the run like a modern-day Bonnie & Clyde. Cue Beyoncé's and Jay-Z's early 2000s hit. The cast and crew is a dream team: The film is starring the brilliant Daniel Kaluuya and intriguing Jodie Turner-Smith. It's written by Lena Waithe and directed by Melina Matsoukas, who both hit the ball out of the park with the Emmy-winning episode of Master of None, "Thanksgiving." My body is ready.
Queen & Slim runs into theaters on November 27, 2019.
5. The Lion King
Next to A Goofy Movie, The Lion King is the blackest Disney film. A whole 25 years after its legendary animated debut, the greatest Disney film you've ever feasted your eyes on is getting the live-action (CGI) treatment. Let's get the obvious out of the way: Beyoncé. Somehow, Disney convinced Bey to take some time away from frolicking on a luxurious private island with her children and husband to huddle in a studio booth and lend her husky voice to Nala. That soundtrack, though. It shall be litty. Yes, we have to experience Mufasa dying all over again, but in the highest definition. The shot-for-shot teaser trailer had me convulsing, so I can't wait to experience this shit on the biggest screen. IMAX or nothing.
The Lion King roars into theaters on June 19, 2019.
Let's go on to the smaller screen...
Disclaimer: Some of the following list won't be new shows so much as the continuation of current shows since that frustrating, yet understandable winter break exists. For those of you who aren't caught up, I won't post outright spoilers, but rather, hints to them. Spoiler-esque, if you will. Thank you and goodnight.
6. Grown-ish, Season 2
Freeform's Grown-ish is my favorite feel-good escape from reality. While it does touch on serious issues such as addiction and colorism, it handles it in such a heartwarming way, you feel like you just received the best hug ever after watching. Zoey is off to her sophomore year at Cal U with a new boo, but I expect some more conflict with her love life. Plus, those fashions. College Zoey dresses better than college-me and today-me.
Grown-ish Season 2 premieres January 2, 2019 on Freeform.
7. This Is Us, Season 3 (Midseason Return)
Aside from THAT FUCKING AIN'T-SHIT CLIFFHANGER THEY LEFT US ON, OMG EVERYTHING WE'VE EVER KNOWN IS A LIE, I'm looking forward to reconnecting with the Pearsons. I'm mostly ready for Beth's (Susan Kelechi Watson) origin story because it's been a long time coming. Forever and a day, to be exact. Y'all know how I feel about Beth; I wrote an ode to her.
This Is Us will be back to make us all cry January 15, 2019 on NBC.
8. The Twilight Zone
The Twilight Zone raised me. Whether I can see it flickering on my grandma's television throughout my childhood or lying on my tummy on New Year's Eve to engage in the tradition with my mama, Rod Serling's legendary social commentary series spanning genres of horror, science fiction, and mystery is etched in my memory. Now, Peele—he of taking over every medium like a G—is tackling the historic mastermind's contribution to media. We've already established the special inner workings of Peele's mind, so this reboot is the perfect slice of entertainment within the dimension of imagination. I especially can't wait for Peele's haunting introductions ala Sterling.
The Twilight Zone will invite you into its dimension between space and time in 2019 with no exact date yet, on CBS Access.
9. Boomerang
If you follow them on Instagram, Ben Cory Jones and Waithe have been all up in our feeds teasing us with behind-the-scenes stills and video, and let me tell you something: It looks pretty as fuck. I am always here for black folks in colorful filters (blues, purples, reds, oranges, what have you) because we look fabulous in that shit. The 2019 reboot will follow the son of Jacqueline Bower
(Robin Givens) and the daughter of Marcus (Eddie Murphy) and Angela (Halle Berry) as they navigate their own lives, intentionally separate from their parents. The 1992 iteration of Boomerang was filled with unforgettable lines and moments, so I'm looking forward to a modern-day continuation. I'm expecting cameos. Plus, Berry is onboard as a producer. I'm thinking (and hoping) they'll do right by the OG.
Boomerang will ricochet into our lives February 12, 2019 on BET.
10. Desus & Mero on Showtime
The brand is back. Raise your hand if you watched noteworthy moments go by in 2018 and you thought to yourself, "Damn, I wish I had Desus & Mero's commentary on this right now." *Raises hand high* Don't fret, because we'll get to watch Desus' love for Filet-O-Fish and relish in racists (figuratively) sucking Mero's dick from the back in 2019. Prime comedy and illustrious guests. The Timbs-wearing bear, Juicebox, better be there, too. Salty ass Vice lost a good one, ya'll.
Desus & Mero will rock their fresh pair of Timbs for their premiere February 21, 2019 on Showtime.
Honorable Film & TV Mentions just because my neurosis only allowed me to list 10 total: Dear White People (Season 3), Raising Dion, Central Park Five (miniseries), I Am The Night, Queen Sugar (Season 4), See You Yesterday, Central Park Five, Harriet.
2019? We ready.