The 19th annual BET Awards have come and gone and it was the blackest way to start the summer. I watched the shenanigans go down live from one of the blackest media rooms in the game.
After top-nominated Cardi B opened the show with her single "Press," Queen Host Regina Hall brought D.C. to L.A. with a huge musical number dedicated to "Da Butt" by E.U. (Experience Unlimited).

The red carpet was actually the blue carpet this year, to honor the late Nipsey Hussle, who received the 2019 Humanitarian Award posthumously.
Winners, Wonderment and WTF
How many babies are there in the music industry right now? Lil Baby. Da Baby. Yung Baby Tate. Baby, Bay-beh!
G/O Media may get a commission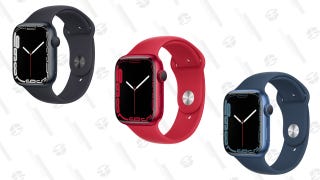 Up To $45 Off
Apple Watch Series 7
Marsai Martin not only won the Young Rising Star Award, she won the "Best Facial Expression After a Win" Award. She basically recreated her own meme, y'all.
"Sometimes I feel like I'm not doing too much and sometimes I feel like I'm doing too much," Cardi said during her speech for Album of the Year.
Lizzo gave y'all everything you needed by fucking it up with a flute and a twerk. Because game recognize game, Rihanna (who actually graced everyone with her presence) stood up and praised a fellow queen. We have to stan.
Snoop Dog won the Best Inspirational Gospel Song Award. Tell that to Tonja in the '90s and '90s Tonja will look at you like you've lost your mind.
Lil Nas X and Billy Ray Cyrus had a grand yee-haw agenda entrance by walking the red carpet on horses. Can't nobody tell them nothin'.

BlacKkKlansman took home the Best Movie Award of the night and this is a perfect opportunity to reiterate how eerie it is that John David Washington has the exact same voice box as his father Denzel.

That moment when Regina was inspired by Robert Smith to pay for students to go to college but listed an insane amount of stipulations, including: the HBCU must be online and any applicant must be a vegan virgin with a club foot and is a water sign.

I really am loving this moment where The Exonerated Five truly get to live their lives in peak black boy joy—the joy that was snatched from them so heartlessly by this "justice" system.

Lena Waithe, Melina Matsoukas and Jodie Turner-Smith introduced Queen & Slim in the film's first teaser.
Wow.

Regina won Best Actress, but it wasn't the night's host. Regina King, that is.

"Thanks for giving us all we need when we didn't know that all we needed was you," Rihanna mused as she presented Mary J. Blige with the 2019 Lifetime Achievement Award. Then, the Queen of Hip Hop Soul took to the stage to remind us why she has that very title. The moment when the entire crowd sang "I'm Goin' Down" was a moment to remember. And Kimberly Denise Jones made a fire appearance?! And Method Man. Plus, Ms. Blige may have invented thigh high boots.
DJ Khaled is a walking energy drink.

Ella Mai took home the Viewer's Choice Award for "Trip" and walked offstage after her speech like a highlighted boss.

"Tyler Perry was the first to pay me for my worth," Taraji P. Henson said as she presented Perry with the Icon Award. Perry then went on to dismiss any concern about #OscarsSoWhite and encouraged those looking for a seat at the table to set their own table.

Kirk Franklin, GP is still with you.

Both John Singleton and Nipsey Hussle received touching tributes Sunday night. R.I.P. Though many people realized the absence of an Aretha Franklin tribute, others pointed out the network honored the late Queen of Soul at Black Girls Rock. Still, some viewers were hoping to see a nod at the main show.
Then, Johnny Gill ended the night before performing "Before I Let Go" with a Go-Go twist. Before I Let Go-Go.

Overall, this year's award show was for black women. A black woman won the biggest award of the night, a black woman received the biggest honor of the night, a young black girl (who will one day become a black woman) was dubbed the Young Rising Star, a movie written and directed by black women showcased its first teaser and a black woman hosted the night. We are magic.

For the complete list of winners, head to bet.com.