In honor of Women's History Month, The Root pays tribute to African-American women working in the fastest growing field around the globe. While their numbers may be relatively few (pdf), they are making great strides, using their science, math and engineering degrees to amass impressive digital portfolios. Jobs in science, technology, engineering and math (STEM) are projected to expand at more than double the rate of the entire U.S. labor force through 2018, according to a recent STEMconnector report.
Sheila Marmon, Founder and CEO, Mirror Digital
Marmon, a native of Los Angeles, worked as a senior associate at Morgan Stanley and a strategy associate at Time Warner before starting Mirror Digital. The interactive media and advertising company connects Fortune 500 brands to multicultural consumers online. Key clients include Sony Pictures, Ford Motor Company and Macy's, among others. She holds a bachelor of arts cum laude from Princeton University and earned her M.B.A. from the Harvard University Graduate School of Business.
Angela Benton, Founder and CEO of NewMe Accelerator
G/O Media may get a commission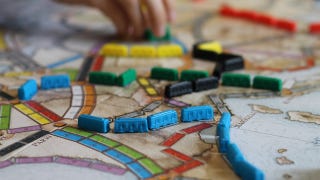 Tabletop & Board Games to Play This Fall
The Root 100 honoree is a tech entrepreneur dedicated to encouraging minority-owned startups in Silicon Valley. NewMe Accelerator strives to educate and empower underrepresented tech talent around the globe. The organization has received critical acclaim from the Wall Street Journal, the Washington Post, Inc. Magazine and others for the work it's doing to ensure the technology industry is accessible to women and minorities.
Laura Weidman Powers, Co-Founder and Executive Director, Code2040
Calling it economic social justice, Code2040 aims to close the achievement, wealth and skills gaps for blacks and Latinos in the United States by creating access, awareness and opportunities in technology and engineering. Powers brings a vast and varied background to the table, including entrepreneurship, nonprofit management, youth development and technology. She graduated from Harvard.
Christina Lewis Halpern, Founder of All Star Code
The self-described opinionated woman, wife, mother and social entrepreneur launched All Star Code in an effort to prepare talented minority boys for careers in science and technology. The nonprofit seeks to attract, prepare and place high-potential, qualified young black men in the tech-career pipeline and help them achieve full-time employment at technology companies early in their careers. She received her B.A. from Harvard.
Tanya Van Court, Senior Vice President of Partner Marketing, Discovery Education
Van Court, who holds a bachelor's and master's degree in industrial engineering from Stanford University, brings more than 15 years of experience in media, interactive technology and youth-based learning experiences to Discovery Education, a subsidiary of Discovery Communications, home to a variety of cable networks. As senior vice president of marketing, she heads the development and execution of partner marketing programs and resources of Discovery to classrooms nationwide. She also is responsible for collaborating with key educational foundations in the development of innovative educational programs for the K-12 and higher education markets. Prior to that, she served as senior vice president and general manager of NOGGIN, ParentsConnect and NickJr.com.
Teresa Wardmaupin, Director of Digital Experience, Aio Wireless
Boasting more than 17 years of leading teams in technology, Wardmaupin is currently responsible for heading overall ecommerce operations management for products, services and equipment sold at AioWireless.com. She leverages technology through the services and tools available to help customers enhance their lives. She has worked at AT&T, EarthLink and Prodigy Communications and serves as an expert on all things technology.
Charis Simms, Director of Devices & Accessories, Aio Wireless  
Simms knows the important role that technology plays in spurring economic development in emerging economies. To that end, she is responsible for branded devices and the accessory portfolios sold in stores and at AioWireless.com, as well as its trade-up program, which offers customers credit for old devices and accessories. Her 10 years of experience in telecommunications includes her current role at Aio and AT&T Mobility, where she managed part of its mobile phone portfolio. She started her career with international trade consulting firms in Washington, D.C., and has pursued educational opportunities in countries including India, South Africa and Mexico.
Wanda M. Austin, President and CEO of the Aerospace Corp
In January 2008, Austin took over as head of Aerospace, one of the leading architects for the nation's national-security space programs. The company has nearly 4,000 employees and annual revenues of more than $850 million. Recognized internationally for her work, she served on President Barack Obama's Review of Human Spaceflight Plans Committee in 2009, and in 2010 was appointed to the Defense Science Board. She earned a bachelor's degree in mathematics from Franklin & Marshall College, master's degrees in systems engineering and mathematics from the University of Pittsburgh and a doctorate in systems engineering from the University of Southern California.
Ursula Burns, Chairman and CEO, Xerox
Burns, who started as an intern at Xerox in 1980, was named president of the $23 billion computer and office-equipment company in 2007. She became chief executive in 2009 and chairman in 2010. The innovative thinker and leader says, "We all need to be more impatient with the status quo. I believe we all need to shift the emphasis in our thinking—from why we can't create more jobs to how we can create more jobs." She earned a B.S. in mechanical engineering from Polytechnic Institute of New York and a master's in engineering from Columbia.
Rachel A. Brooks, Digital Producer and Co-Founder of Citizen Made
The digital producer, who is an honoree of The Root 100, made her mark by helping businesses to make their brands stand out in digital space. Citizen Made offers software to businesses to help them increase sales and recognition of their unique brands by helping their customers "visually place" their orders from their sites. Brooks says she believes in "local businesses, small-batch production and the power of makers who share their unique product offering with the world." She graduated from the University of Michigan.
Brittney Cooper, Co-Founder of the Crunk Feminist Collective
Cooper, an honoree of The Root 100, is an assistant professor of women's and gender studies and Africana studies at Rutgers. Besides writing pieces at her popular black feminist blog, the Crunk Feminist Collective, she is also a prolific writer at Salon, where she has tackled the hefty issue of race relations. She touched a nerve last summer when she wrote a piece at Salon about how a fellow air passenger called her a "fat n—ger" in a text.
Marian Croak, Senior Vice President, Domain 2.0 Architecture and Advanced Services Development, AT&T
Croak, a leader in the tech industry for 30 years, manages more than 2,000 engineers, developers, designers and other innovation experts, and holds more than 135 patents in voice-over Internet protocol technology and other areas, with more than 100 under review by the U.S. Patent Office. So, she knows a thing or two about being a minority in a field where women of color are still unequally represented. She was recently recognized at the Black Engineer of the Year Awards for outstanding technical contribution. She attended Princeton University and the University of Southern California and has a Ph.D. in Social Psychology and Quantitative Analysis.
Tanya Lombard, Assistant Vice President, Public Affairs, AT&T 
As assistant vice president of public affairs at AT&T, Lombard has created programs like the T-Hive (Technology) Initiative, where she enlisted the help of celebrities to engage multicultural communities around public policy and other critical issues. The recipient of the 2013 "Women of Distinction" award from the National Organization of Black Elected Legislative Women has dedicated the past 20 years of her life to public policy and community development. She has advised some of the highest officials in government, including President Bill Clinton and Vice President Al Gore.
Aprille Ericsson-Jackson, Aerospace Engineer, NASA Goddard Space Flight Center
The pioneer engineer, who was born in Brooklyn, N.Y., was the first black woman to earn a Ph.D. in mechanical engineering from Howard University after already earning a B.S. in aeronautical/astronautical engineering from MIT. She also became the first black woman to receive a Ph.D. in engineering at GSFC.
Shirley Ann Jackson, President, Rensselaer Polytechnic Institute
Time magazine has called Jackson, leader of the oldest private technological university in the nation, "perhaps the ultimate role model for women in science. Since her arrival in 1999, she has been the school's top fundraiser, bringing in more than $1.25 billion for the facilities, equipment, technology, faculty and infrastructure. Before arriving at RPI, the theoretical physicist had a distinguished career that includes senior leadership positions in government, industry, research and academics. She earned both her S.B. in physics and her Ph.D. in theoretical elementary particle physics from MIT.
Lisa Gelobter, Vice President of Digital Product, Technology and Operations, BET
Have you watched animation on the Web? Of course you have, and you can thank Gelobter in part for that. She was integrally involved with the advent of several pioneering Internet technologies, including Shockwave, the genesis of animation on the Web, and the emergence of online video by way of Brightcove, Joost and the FeedRoom. The 20-year industry veteran was also a member of the senior management team for Hulu. She has worked at BET Networks for four years.
Corvida Raven, Founder of SheGeeks and Everything Twitter
Raven, who personifies the young generation of tech mavens, is founder of SheGeeks.net, where the 20-something writes about the newest gadgets, social media trends and all things related to technology. She is also co-founder of Everything Twitter, which provides resources on how to up your game on the social media site. Fast Company magazine listed her as one of the most influential women in technology in 2009. When she's not blogging, she works as a social media consultant for companies, including GM, Fast Company and Intel. She's also a community catalyst at TED, where she encourages people to talk about ideas for the nonprofit, whose mission is to disseminate ideas "worth spreading."
Like The Root on Facebook. Follow us on Twitter.