12-year-old Elijah Earnheart, who's 6'1'' and 297 pounds, has been banned from a Texas Pee Wee football team because his weight exceeds the limits set for seventh graders.  Anyone can understand the league's concern for protecting smaller players.  But it's still impossible not to feel for Earnheart, who told a local news station, "I just want to play because most of my teammates are my friends," leaving no question that, despite his size, he's very much still a kid.
From the Huffington Post:
Even though he had practiced for the Mesquite Vikings for three weeks, the league dismissed him at a Sunday weigh-in. His mother told Fox 4 that her son came home and cried.

"I just want to play because most of my teammates are my friends," the 12-year-old said in the news segment.

His mother, Cindy Earnheart, has tackled the matter by jumping into protest mode. She wrote "Let Elijah Play" on signs and T-shirts. "I'm not going to let him give up," she told Fox 4…
"We are looking out for the smaller kids as well as the bigger kids. We want to make sure there is a safe place to play for everyone," Henderson added.

But the team's coach, Marc Wright, is on the boy's side. He told Fox 4 that many kids who exceed the weight limit are allowed to play. They just have to wear an "X" on their helmet and are limited to playing either defensive or offensive line.
Read more at the Huffington Post.
G/O Media may get a commission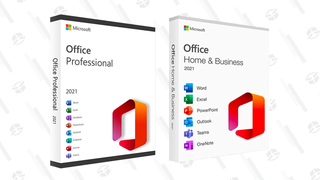 89% off
Microsoft Office Professional 2021 Lifetime License