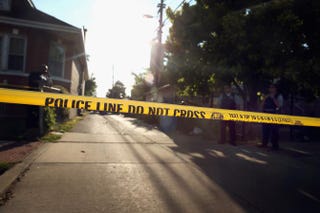 As the long holiday weekend kicked off, at least one person was killed and 10 others were wounded in shootings across Chicago, according to NBC Chicago.
In shootings scattered across the city, one man was killed late Friday in the Back of the Yards neighborhood. And just after 5 a.m. Saturday, a 28-year-old man was shot on the West Side. The man told police he was sitting outside when someone exited a vehicle and fired a gun in his direction, NBC reports.
Last year, the weekend was even bloodier, with eight people dead and 25 wounded in violence throughout the city. The figures were even worse in 2012, with 11 dead and 43 wounded. The startling numbers once again drew widespread attention to the city's staggering problem with gun violence.
Determined not to see a repeat of the mayhem, prominent South Side pastor Corey Brooks asked gangbangers to put down their weapons ahead of Labor Day weekend this year, CBS Chicago reports.
"Our hope and our goal is to make sure that this weekend if filled with nothing but peace, celebration and love," Brooks said during a rally in Pioneer Court, after walking with 125 people from Roosevelt Road and Michigan Avenue to Tribune Tower, according to CBS.
Read more at NBC Chicago and CBS Chicago.