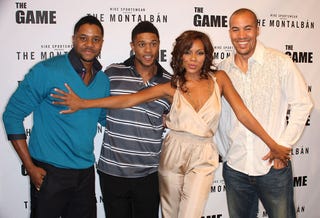 If you haven't heard the news already CW's The Game was not picked up for another season.  The network made the official announcement yesterday and every cyber forum within Wi-Fi shot is expressing rage and love.  I reached out to my former boss and The Game creator, Mara Brock Akil, for an official statement.  She was busy processing and saying her goodbyes.  However, she may visit to The Root later today.  Check back. 
If there's one thing I can say about Akil is that she works hard trying to keep quality black life in the consciousness of the mainstream.  She's never used buffoonery as a key to open doors for greater media success.  When Girlfriends ended abruptly during its 8th Season, Akil did her best to convince the CW to put together some sort of a finale.  It was the principle.  However, in the end, economics trumped principle.  When the CW announced it wasn't going to foster any more sitcoms, Akil re-structured her game plan and repitched The Game as a dramedy.  After ten years of hiring black writers, actors, directors, crew and providing entertainment to international households, Akil's tenure at CW has come to an end.  But it's far from being over for Akil.  She's in the game to change the way audiences [and the industry] interpret the importance of black folks.  That deserves respect.
Join me in saying thank you for Akil's hard work and to say so long to 10 years of black TV over at the CW.


Keith Josef Adkins is an award-winning playwright, screenwriter and social commentator.