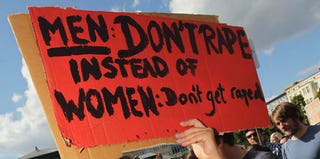 As the saying goes, the biggest lie the devil tells is that he doesn't exist, and in the Nation, novelist Walter Mosley says Americans use the same idea in refusing to acknowledge rape culture.
1. Name the real problems: Violent masculinity and victim-blaming. These are the cornerstones of rape culture and they go hand in hand. When an instance of sexual assault makes the news and the first questions the media asks are about the victim's sobriety, or clothes, or sexuality, we should all be prepared to pivot to ask, instead, what messages the perpetrators received over their lifetime about rape and about "being a man." Here's a tip: the right question is not, "What was she doing/wearing/saying when she was raped?" The right question is, "What made him think this is acceptable?" Sexual violence is a pervasive problem that cannot be solved by analyzing an individual situation. Learn 50 key facts about domestic violence. Here's one: the likelihood that a woman will die a violent death increases 270% once a gun is present in the home Remember, a violent act is not a tragic event done by an individual or a group of crazies. Violence functions in society as" a means of asserting and securing power."
Read Walter Mosley' entire article at the Nation.
The Root aims to foster and advance conversations about issues relevant to the black Diaspora by presenting a variety of opinions from all perspectives, whether or not those opinions are shared by our editorial staff.