I'm a black-movie connoisseur and African-American-movie advocate. If a black movie exists, I'm checking it out and I don't care what country it comes from.
Toheeb Jimoh Talks The Power, Acting With Toni Collette, & Ted Lasso on That's So Random
My Netflix queue tells me that movies like You Got Served and True to the Game are popular on Netflix. We all know that's a lie. My Amazon Prime queue? If it's starring Murda Pain, it's on my list. My Sidepiece Hit the Lotto? Saw it. Black Panther? Bought it. I'm all in.
I'm an advocate, supporter and analyst from low budget to blockbuster. I watch them all academically but with entertainment in mind, first and foremost. With that being said, Coming to America, the 1988 movie that turns 30 (!!!) on Friday, is the best black movie of all time.
I hear you looking at me. I'm going to make a case with 10 of what are likely dozens of reasons. Also, I recognize that many, many of the jokes wouldn't fly today. It might not be the most problematic movie of all time, but the super-stereotypical nature of "Africa" in the form of Zamunda and the treatment of women (Vanessa Bell Calloway's performance was memorable for all the wrong reaons), well, leave a lot to be desired. Casting Shari Headley against a super-sassy, dark-skinned woman also seems lazy and intentional. The movie has issues.
G/O Media may get a commission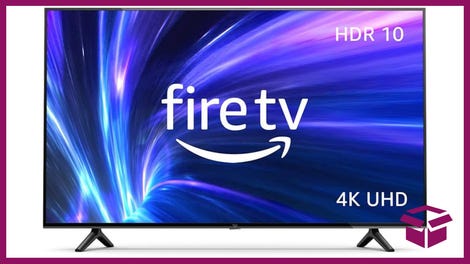 42% Off
Amazon Fire TV 50" 4K Smart TV
1. It has more replay value than any other black movie.
For starters, it's a black movie. I don't care who directed it. Let's just get that out in the open. Second, it's still a good-ass movie; dated as it may be, it doesn't entirely feel dated, short of the clothing choices. I contend that in the round of 64 Black-Movie Replay-Value tourney, Coming to America is the winner, hands down. In a surprise top five finish, Baby Boy also has remarkable replay value. Fight your mom, bro.
2. It's still pop-culture-relevant today.
Terms like "juices and berries," Sexual Chocolate, describing a football game as "kicking an oblong ball made of pigskin through a big H! It was a most gripping victory!" along with "That ain't nothing but an ultraperm" and maybe THE most popular phrase, "Is that velvet?" are still used today. By young kids, too. Because of Coming to America, I still refer to Dr. Martin Luther King Jr. as Dr. Martin Luther tha King.
3. It has a hell of a cast, including the characters played by Eddie and Arsenio. 
Eddie Murphy. Arsenio Hall. James Earl Jones. John Amos. Madge Sinclair. Vanessa Bell Calloway. Samuel L. Jackson. Garcelle Beauvais. Cuba Gooding Jr. Paula Abdul choreographing the wedding scene! Frankie Faison. Vondie Curtis-Hall. Louie Anderson. Don Ameche. Eric La Salle. Shari Headley.
4. Soul Glo.
Soul Glo is such an iconic brand, it's almost possible to forget that it never existed. Unlike McDowell's, which we just wished existed but know it's too good to be true.
Jackson Heights of Queens, N.Y.'s own Randy Watson was in one episode of That's My Mama and became one of the most famous black-movie characters of all time off the strength of one terrible song: "SEXUAL CHOCOLATE!"
6. Eddie and Arsenio's chemistry.
They played off each other so well, you'd think they had been best friends since they were both knee-high to a grasshopper.

7. The scene where they were trying to find a date for Akeem in the club.
Peaches is one of the greatest rappers of all time, and don't let anybody tell you otherwise! And I, too, was Joan of Arc in my former life.
I'm not sure this needs any explanation, but even today, Oha's melodious belting is one of the most iconic musical moments in any movie of all time that ever did exist. There isn't a black household—or shouldn't be—around where this isn't sung at least once a week, twice on Thanksgiving and at engagements.
9. "His momma named him Clay, Imma call him Clay."
My-T-Sharp is my favorite barbershop of all time, and it doesn't even exist. The barbers and Saul gave us some of the truest-to-life black-barbershop talk of all time. "FUCK YOU! FUCK YOU! AND FUCK YOU. Who's next?"
10. This dance scene that got me ready to work out and take dance classes. Because it's black as hell.