I wasn't born in this country. In fact, I didn't live in it until I was 9 years old, arriving in Northern Virginia on the cusp of the fifth grade, excited about American TV and the prospect of seeing my first snowfall. While I still spoke with a Filipino accent, my citizenship was never in dispute. Thanks to my American father, my foreign birth didn't count against me. Although I'm half-American, I've always been a full citizen. That's what the law stated, and still states.

But the enforcement of these laws is arbitrary as hell, as a new lawsuit filed Monday against the State Department shows. According to the Chicago Tribune, a gay married couple filed a complaint on behalf of their 16-month-old son Ethan, who was denied U.S. citizenship, while his twin brother, Aiden, was approved.
As was the case with my parents, one parent, Andrew Dvash-Banks, is a U.S. citizen, while the other, Elad Dvash-Banks, is not. So how could the State Department recognize the citizenship of one twin but not the other? Because, unlike with straight couples, binational same-sex couples are routinely asked to prove a biological connection to their children. In the Dvash-Banks case, this was done through a DNA test.
From the Tribune:
Andrew Dvash-Banks was studying in Israel when he met his future husband, Elad, an Israeli citizen. Because they couldn't marry at the time in the U.S. or in Israel, they moved to Canada, where they wed in 2010. Each boy was conceived with donor eggs and the sperm from a different father, but born by the same surrogate mother in September 2016.
Everything seemed fine until the couple brought their cranky infants to the American consulate in Toronto a few months later to apply for citizenship and the woman at the counter began asking probing questions they found shocking and humiliating.

The consular official told them she had discretion to require a DNA test to show who the biological father was of each boy and without those tests neither son would get citizenship. The men knew that Andrew was Aiden's biological father and Elad was Ethan's but they had kept it a secret and hadn't planned on telling anyone.

"I started crying," Andrew Dvash-Banks said. "These are twins, how can you differentiate between them? They were born minutes apart."

After submitting the DNA test results that proved who fathered each boy, the couple received a large and small envelope from the U.S. on March 2. The big one included Aiden's passport. The other was a letter notifying Andrew that Ethan's application had been denied.

The family has since moved to Los Angeles to be closer to Andrew Dvash-Banks' family. Ethan came on a tourist visa that expired last month.
G/O Media may get a commission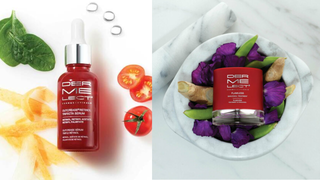 Save $19
Retinol Renewal Kit
For its part, the State Department maintained that its policy is that there must be a biological connection to the U.S. citizen for a child to be considered a citizen at birth. But the rigor of that investigation into biological connections varies greatly between straight and same-sex couples.

My parents, citizens of two different countries to this day, were not required to prove the bona fides of my American genes. And our family's example is typical of most straight couples who have children overseas. This is a point that Aaron Morris, executive director of Immigration Equality, an LGBTQ immigrant-rights group that filed the suit against the State Department, made to the Tribune.

"If a mother and father walk into a consulate and have a marriage certificate and birth certificate, they're never asked any questions about the biology of the child," said Morris. "But the converse is also true, and every same-sex couple will be asked that."
So much of our immigration policy revolves around these cruel and arbitrary bureaucratic practices. These existed long before Donald Trump, but the president's unapologetic xenophobia has already derailed certain immigration protections, like the Deferred Action for Childhood Arrivals program, and soured further attempts to deal with these issues in a humane and compassionate way.
Barely more than 1 year old, Ethan Dvash-Banks and his parents could very well set a precedent for how future same-sex couples are treated. Until then, he and the brother he shares a crib with face an uncertain, and unequal, future.