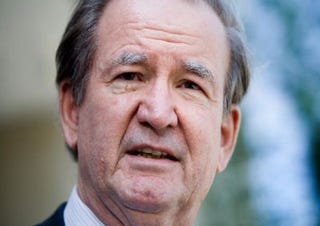 Rashad Robinson, executive director of ColorOfChange, writes in a blog entry at the Huffington Post that after his organization launched a campaign last week calling on MSNBC to fire Pat Buchanan from his role as contributor and political analyst, white supremacists rallied around him. They want to make sure he maintains a position on a major cable news network so that he can continue to espouse his racially inflammatory ideas, Robinson writes.
To date, more than 84,000 people of all races and ethnic backgrounds have signed the ColorOfChange petition demanding that MSNBC — an otherwise respectable news outlet — stop elevating a contributor who regularly espouses white supremacist, anti-Semitic and homophobic views. But the community of commenters on Stormfront.org, a white nationalist site, have rushed to defend Buchanan, calling him "a real national treasure" and expressing regret that David Duke ("another honorable white man") isn't taken seriously by mainstream media the way that Buchanan is.
Here's more from the Stormfront community in support of Buchanan:
Stormfront member Tenniel:
"There have been NO mainstream leaders who have spoken out in support of the White race and White America. Now, finally, ONE mainstream White leader is doing so. This is a tear in the american jew matrix."
Stormfront member NationalCrusader14:
"I congratulate him for telling the truth. He is the only person on national television regularly with pro-white views. I know James Edwards and David Duke have appeared on Television/Talmudvision before but they do not get on very often because they are not allowed."
Read Rashad Robinson's entire blog entry at the Huffington Post.
Rashad Robinson is executive director of Color of Change, the nation's largest online civil rights organization. Follow Color of Change on Twitter.