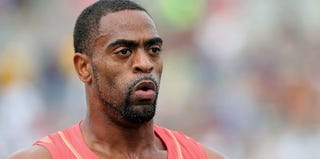 Olympic sprinter Tyson Gay tested positive for an unnamed banned substance on Friday, PBS Newshour reports. The 30-year-old athlete had a reputation for being clean. Gay announced the news himself and said that he had trusted someone who failed him.
CHRISTINE BRENNAN [sports journalist]: … Tyson Gay was known as Mr. Clean. This is a man who went on the U.S. Anti-Doping Agency Web site, Gwen, and said, I am clean. If I'm not, my mother will kill me.

Well, mom is not happy today, obviously. He went and professed that he is one of the athletes to trust and believe in. He is 30 years old. His whole career has been about this.

And now he has tested positive. It is a devastating blow for the sport, a sport that's already been reeling over the years from Ben Johnson in '88, Marion Jones 10 years ago, and now this. And you really wonder if it is kind of taking and pushing the sport into oblivion.
Read more at PBS Newshour.