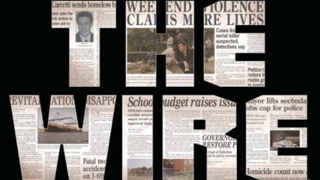 In June 2002, when HBO debuted The Wire, no one knew what was happening. No one knew that the show was a five-part story about not only the people but also the city of Baltimore, told through all of the channels that help make its history: season 1, the drug game and the police force; season 2, the docks; season 3, the city's political scene; season 4, the school system; and season 5, the media.
When the show ended in 2008, many of us wondered what would happen to all the great actors The Wire introduced us to. Here's a look at what the performers who helped make the show stand out have been up to since.
It was brilliant to watch all of this complexity wrapped around beautiful language and fluid storytelling. The storytelling was no surprise, given that the show was created by natural storyteller David Simon, who gleaned many of the show's tales from his previous life as a police reporter for the Baltimore Sun. By season 4, Slate was arguing for why it was the best show in American television history. Not only was it layered and nuanced, but it also introduced iconic figures into the American lexicon. Bubbles, Wee-Bay, Omar, Stringer Bell, Prop Joe, Snoop, Marlo, Brother Mouzone and Wallace aren't random names; they are friends we all knew once, back before we realized what was happening.