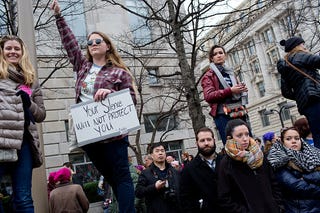 Black women have never labored under the assumption that all womanhood is created equal in a white supremacist society.
We have had to fight for access to the full spectrum of womanhood, to be treated not as breeding chattel but as fully human. We know white supremacy to be a feminist issue on the most intimate and painful level because systemic oppression has always been mapped on the bodies of black women.

Our communities have been covered in sheets of our blood for generations. Our families have been ripped apart with precision by the vicious consistency and cruel mundanity of whiteness. We bear layers of scars, and our anger cannot be washed away or marched away, or defined by knitted, pink pussy hats.

This is the reality, the hot, seething reality, that is being diminished by some people in current conversations around the Women's March on Washington, D.C.

As resentment and defensiveness swelled during the organizing of the march, there were white women who voiced concerns that some black women were bullies—too angry, too demanding and too divisive.

These were all code words for "the real racists."

Emma-Kate Symons, writing for the New York Times, called it a hijacking: "It saddens me to see the inclusive liberal feminism I grew up with reduced to a grab-bag of competing victimhood narratives and individualist identities jostling for most-oppressed status."

This is what white, liberal, feminist racism sounds like—the blatant and self-serving refusal to acknowledge that white women have always been complicit in the oppression of women of color. They have been beneficiaries and perpetrators of a genocidal system that continues to shape-shift in transparent attempts to disguise itself.

The terror that Donald Trump has induced as the dystopian state he promised becomes reality is palpable. And with it comes the expectation that black women must fold our anger, resentment and mistrust into something that will not singe the fragility of white women.

Because now just isn't a convenient time.

Despite the racially fraught origins of the march, many women of color marched on Jan. 21 to stand in solidarity against Trump; others went to ensure that white women did not control the dialogue and lay sole claim to women's rights; others went to start that good trouble.

Millions of women across the nation—black, white, Latinx, Asian, indigenous, cisgender and transgender, able-bodied and disabled, Christian, Muslim and atheist—were inspired by the historic show of women's power and the magnitude of its potential.

However, there are black women who noted that anti-blackness was on full display. This was most clearly evident in the self-congratulatory photos of attendees with police officers rocking pink pussy hats and the triumphant reports that there were no arrests made.
There were no tanks, no clubs and no water hoses. Jovial police officers came out in full force to protect white womanhood, positioning the march as a propaganda tool for the state. The dangerously dishonest contrast being that Movement for Black Lives activists and Standing Rock water protectors must have instigated and enflamed the state-sanctioned violence and continued threats against them.
Black women are not surprised.

"It's something they almost brag about. 'No one was arrested. The police gave us high-fives,'" Ferguson, Mo., protester Johnetta Elzie told the Boston Globe. "The people I've seen saying that are white women, and that's really spoken from a complete place of privilege."

Race, gender and class influence every interaction with police. And this reality places black women in potential danger on a daily basis. With Donald "Law & Order" Trump continuing his antagonist stance against the Movement for Black Lives, fighting back against the violence that black women experience at the hands of the state should have been a top priority. More than likely, though, little thought was given to the fact that women of color often live in occupied territories at the mercy of rapists and killers who hide behind badges.