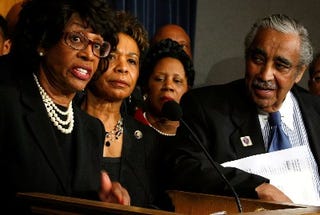 It turns out that Rep. Charles Rangel (D-N.Y.), who made an impassioned plea in August not to be left "swinging in the wind until November" while awaiting his ethics hearings, will indeed be doing exactly that. The ethics trials for both Rangel, who is up for re-election, and Rep. Maxine Waters (D-Calif.) have been officially scheduled for after the Nov. 2 midterm elections. The timing will deprive the GOP of headlines that could become fodder for campaign ads.  
The hearings will determine whether Rangel, former chairman of the Ways and Means Committee, committed various financial ethics violations; and whether Waters improperly assisted a bank with which her husband was associated. If the violations are proved during the hearings, the committee will determine a punishment, which might range from a fine to a censure to expulsion. Regardless of the how things turn out for the lawmakers, one thing these two have shown is that they are certainly not going down without a serious fight. Care to wager on the outcome?
Read more at The Washington Post.
Lauren is a former Deputy Editor of The Root.