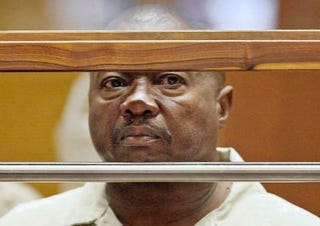 The Los Angeles Times is reporting that police detectives have linked six more slayings to the suspect in the Grim Sleeper serial killings after evaluating hundreds of unsolved homicide cases, missing-person reports and a cache of photos of unidentified women uncovered at his home.
Law enforcement sources told The Times that the new cases bring to 16 the number of killings linked to Lonnie Franklin Jr., 59, who is already charged with murder in the slayings of 10 women whose bodies were found on the streets of South Los Angeles over two decades. Police also have now identified a second woman who they say survived an attack from Franklin.
Police investigators had long suspected that they would eventually find that the person responsible for the Grim Sleeper slayings had killed more than 10 women. Franklin was arrested in July 2010 and linked to the 10 slayings by ballistic and DNA evidence.
Detectives continued look for additional victims, taking the unusual step of releasing photographs of dozens of women found at Franklin's home, hoping the public could help determine if they too were victims.
It's sad that Franklin, a former LAPD garage attendant and city garbage collector, allegedly was able to escape notice for so long because of his chosen victims: drug addicts and prostitutes. Detectives should continue to seek the identities of women seen in hundreds of photographs and videos discovered at Franklin's house. Their families have a right to closure no matter how the women lived. As for Franklin, if he is guilty of these heinous crimes, he should be locked up and the key thrown away.
Read more at the Los Angeles Times.
In other news: Police Who Killed Sean Bell Should Be Fired.
Like The Root on Facebook. Follow us on Twitter.