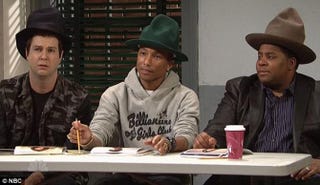 Pharrell Williams, known almost as much for his signature mountain hat as his music, took some merciless ribbing on Saturday Night Live this weekend.
Guest host Anna Kendrick took to the stage in one sketch, donning an outfit of leprechaun green, the color of Pharrell's famous hat. She and Vanessa Bayer played two adoring—if somewhat goofy fans—fighting for the R&B heartthrob's attention while auditioning for roles as backup singers. The panel judging them included Pharrell himself, Kenan Thompson, who was wearing a brown mountain hat, and Taran Killam, who was wearing a black one.
Thompson deadpanned as he sought to set the record straight: "I have always had this hat."
But Killam objected. "Yeah, I've got to be honest, I feel like I was actually wearing this hat first," he said.
The night's performance included Pharrell singing his popular "Happy" song.