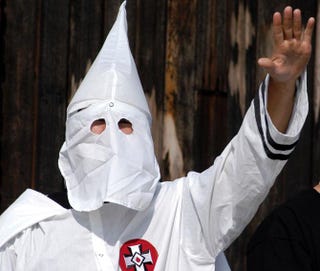 A Bloomsburg, Pa., teen is facing charges of ethnic intimidation, harassment and disorderly conduct after he was arrested for yelling a racial slur at a black Bloomsburg University student, BloomUToday.com reports.
According to the website, at around 9:40 p.m. on Aug. 4, Walter Corey Reibsome, donning a Ku Klux Klan hood, leaned out of the vehicle he and a friend were riding in and yelled a slur at a female student walking alone in the downtown area. The woman said that she heard a truck horn blowing at her and heard Reibsome, in his hood, telling her to "Get out of our town" after uttering a racial slur, according to the site.
The authorities were able to track down Reibsome because of the unusual truck he was in at the time of the incident. They matched the truck, which the female student described as two-toned, to Frank Rubio's Facebook page, the site notes. The 20-year-old Rubio subsequently confessed to driving the truck and told investigators that Reibsome was wearing the KKK costume when he screamed at the young woman. The Facebook page also displayed photographs of the two young men wearing the problematic garb.
A preliminary hearing is set for Oct. 15, according to BloomUToday.com.
Read more at BloomUToday.com.