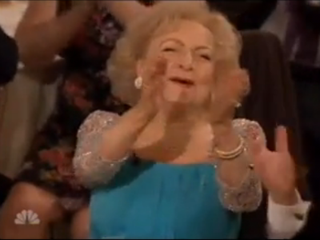 For his contribution to Betty White's 90th-birthday celebration Monday night on NBC, the president provided a "special surprise video message," in which he read aloud a letter to the Golden Girls star:
Dear Betty,
You look so fantastic and full of energy, I can't believe you're 90 years old. In fact, I don't believe it.
That's why I'm writing to ask if you will produce a copy of your long-form birth certificate.
Thanks, and happy birthday, no matter how old you are.
It's a relief that the whole Birther issue, once dominant in the headlines, has (for now, at least) been relegated to political-punchline status (Even Gabrielle Union used it this weekend as host of the BET Honors, joking, "We invited Donald Trump, but he wanted to see my birth certificate first").
What bizarre attack on Obama will provide the next piece of comedic material? Our bets are on Newt Gingrich's repeated (as recently as last night's GOP debate) assertion that he's "the best food stamp president in American history"). 
Read more at Mediaite.
Like The Root on Facebook. Follow us on Twitter.