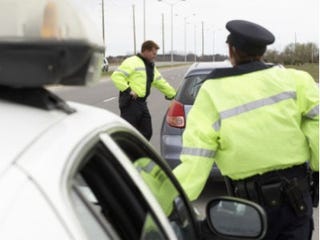 A federal judge has ruled that two Oakland, Calif., police officers violated the rights of two black men whom they forced to stand naked on a crowded street at 8 a.m. near an intersection while the officers searched them and their vehicle.
At the end of a nonjury trial on Thursday, U.S. District Court Judge Marilyn Hall Patel said that there was no probable cause to stop Kirby Bradshaw and Spencer Lucas, who were in a car with a third man at 32nd Street and Martin Luther King Jr. Way at about 8 a.m. on Dec. 15, 2005.
Patel said there was no reason to believe that the men had committed a traffic violation or any other violation of law. Nor had the officers observed any illegal conduct or have any reasonable basis for believing that any of the occupants were on parole.
Noting that Bradshaw, Lucas and the third man were African American, Patel said, "Three black men in a moving vehicle does not create reasonable suspicion."
Too bad it's outside the scope of the judge's duties to put that in a memo to police departments across the country. Still, we hope that this important ruling will attract at least as much attention as the traffic stop that's behind it did.
Read more at KTVU.
In other news: Obama: US Always Will Be a 'AAA Country.'
Like The Root on Facebook. Follow us on Twitter.