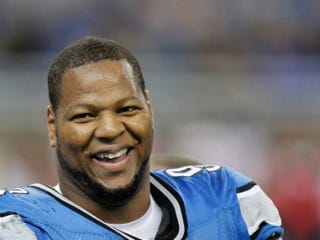 After he was selected with the No. 2 pick in the 2010 NFL draft, Ndamukong Suh didn't waste time making his mark. Suh — whose full name is pronounced "En-dom-ah-ken Soo" — won multiple Rookie of the Year awards and All-Pro honors and was selected to play in the Pro Bowl.
But he has also gained a reputation for being a "dirty player," although opinions vary on the label's accuracy in his case. The issue has grown so fuzzy that Sports Illustrated this year changed the name of its annual poll on the "NFL's Dirtiest Players" to the "NFL's Meanest Players," and Suh came in third. He has been fined three times for rough hits on quarterbacks since last season, and he has been drawn three personal foul penalties in eight games this year.
Suh finally had enough after the Atlanta Falcons accused him of taunting an injured player and the NFL billed Detroit's next game as "Good vs. Evil," featuring a picture of Denver's Tim Tebow and Suh.
So in a shrewd, pre-emptive move, Suh asked to meet with league officials to get a better idea of what he's doing wrong in their opinion. "I am very appreciative of the opportunity to sit and speak with (Commissioner Roger Goodell) and his staff to clarify a few questions about my play, and the game in general," Suh said in a statement after Tuesday's meeting.
"I have gained a better understanding of how I need to continue to play the game to help my team win. I look forward to the rest of the season and the team doing everything we can to bring the Lombardi Trophy to Detroit."
Goodell issued his own statement, saying, "Ndamukong plays the game with great skill and passion and is a major reason for the Lions' success this year. In the course of our dialogue today, we reviewed video showing that Ndamukong has clearly made the adjustments to play consistently within the rules so that he can continue to help the team. We commend Ndamukong's leadership in taking the initiative to schedule today's meeting."
Just like that, Suh probably changed some impressions among fans, players and around the league. He might not change his style of play one bit.
But he's more likely to receive the benefit of the doubt and see officials cut him some slack on close calls.
Brilliant.