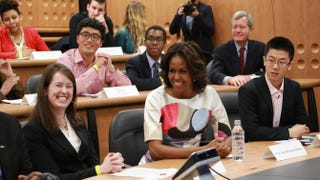 Freedom of speech and unrestricted access to information make countries stronger, Michelle Obama told students in China, the Associated Press reports. China has some of the world's tightest restrictions on the Internet.
The first lady spoke Saturday at Peking University in Beijing during a weeklong visit designed to advance educational exchanges between the United States and China. During the talk, the first lady said the free flow of information is critical, "because that's how we discover truth, that's how we learn what's really happening in our communities and our country and our world."
"And that's how we decide which values and ideas we think are best—by questioning and debating them vigorously, by listening to all sides of every argument and by judging for ourselves," she said.
In China, officials block many foreign news Web sites and social media services such as Facebook, Twitter and YouTube. The country's numerous censors routinely filter out information that the government deems offensive and silence dissenting voices, the report says.
Read more at the Huffington Post.