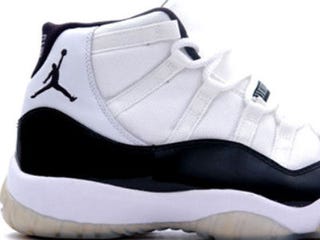 A group of thieves robbed a Charlotte, N.C., home of $10,000 worth of pristine Air Jordan sneakers. The thieves made away with 30 pairs of Jordans as well as baseball hats and electronics, totaling $22,000.
The owner of the home, Bryant Toala, said that he had been collecting the Jordans since he was in school. "I was [upset]," he told the Daily Mail. "All that hard work to get them, getting in all those lines."
A re-release of the popular Jordan X1 Concords sparked mass chaos at stores, resulting in fights and robberies in certain locations as shoppers tried to get their hands on the in-demand, limited-edition sneakers.
This goes to show you how in demand these Air Jordans are. Toala may have told a few people about his collection, or they just may have seen him with an assortment of pairs and decided to rob him. But the fact that Toala said they were in a hiding place in his apartment makes you believe that he may have told just that one wrong person about his stash. Hopefully these crooks will be caught and the merchandise returned.

Read more at the Daily Mail (U.K.).