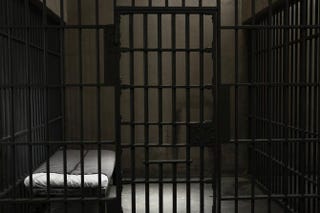 He is soon to be free, but for 51-year-old Jonathan Fleming, freedom may be bittersweet.
Fleming had already served 24 years of a 25-to-life sentence for a murder he did not commit. He was accused of gunning down Darryl Rush, 22, outside an apartment in his hometown of Brooklyn, N.Y., in 1989, the New York Post reports. 
However, there was evidence, even at the time of the conviction, that Fleming was in Florida when the murder occurred.
"[Prosecutors] had the evidence that this man was on a Disney World vacation when this crime was committed," his attorney Taylor Koss said. "It's disgusting."
Fleming was about to be eligible for parole later this year, but Brooklyn District Attorney Ken Thompson got involved and decided to speed up the process, announcing his intentions to dismiss the charges "in the interest of justice," the Post notes.
It's good news, but his lawyers are not especially impressed, given the years lost in the debacle. "Mr. Fleming is very happy that this day has come, but it's too little, too late," Koss said. "The man suffered for almost 25 years for a crime he didn't commit."
According to the Post, attorneys for Fleming insist that the prosecution refused to acknowledge evidence that could have led to his exoneration. There was a receipt from a hotel in Orlando, Fla., showing that Fleming had paid for a phone bill in the city mere hours before Rush's murder, the Post notes. Some hotel employees also remembered Fleming being there, according to Orlando police reports.
To top things off, one of the key witnesses in the trial only testified to avoid her own prosecution, the Post reported. 
Read more at the New York Post.