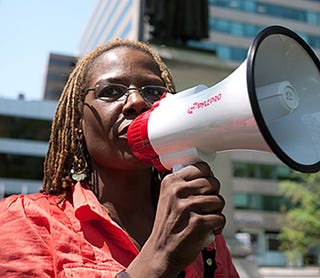 Tina Frundt's story is one of survival. When she was 13 years old and living in Chicago, she met a man, who was about 15 years older than she was, while she was on her way to a store. The man, known as "Tiger," basically groomed Frundt by befriending her and showering her with gifts.
"Little did I know," she said in a 2011 interview, "he was planting the seeds of manipulation. It did not matter what my parents said to me; they did not understand me, and he was the only one that got me.'" On her 14th birthday, he lured her out of state and they ended up in Ohio.
Frundt not only was turned into a sex slave but was also physically abused by Tiger. He also prevented her from escaping by instilling in her a fear of the police and of being jailed. When Frundt finally did escape and was found by the police, she was, in fact, jailed and criminalized. This is why Frundt created Courtney's House in 2008.
A survivor of child sex trafficking, Frundt has since dedicated her life to getting teens the help they need through the Washington, D.C.-based organization. Since its founding, Courtney's House has helped more than 500 teens escape trafficking. Frundt has also been hands-on in training law enforcement and nonprofit groups about trafficking.

Over the last month, stories about missing D.C. teens have been brought to the forefront and received well-deserved media attention, but Frundt's work started well before that. Although D.C. Mayor Muriel Bowser noted that sex trafficking has been ruled out in those cases, Frundt's work, and the fact that there is a sex trafficking problem, prompted President Barack Obama to name Frundt to the U.S. Advisory Council on Human Trafficking in 2015.