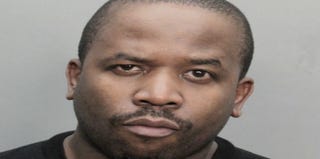 News One is reporting that iconic rapper Antwan "Big Boi" Patton was arrested for drug possession in Miami on Sunday. The rapper was charged with three counts of possession of a controlled substance and one count of possession of drug paraphernalia on Sunday. According to the Miami-Dade County Corrections website, the 36-year-old Patton was also carrying MDMA, which is the main ingredient in Ecstasy. It is also being reported that he was in possession of Viagra without a prescription.
The rapper was booked around 1:30 p.m. on $16,000 bond.
Wow, getting arrested for Ecstasy in Miami? We don't know when rappers will get the memo that being in possession of drugs will get them arrested. How many rappers, rockers, musicians or models have to get popped before they figure out that doing drugs or being in possession of drugs is a straight ticket to jail? Hopefully Big Boi, who has avoided drama with the police over the course of his 20-year rap career, will get it together and make this a one-time event.
Read more at News One.
In other news: Winehouse's Goddaughter Performs at Music Festival.