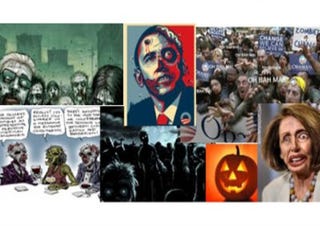 Republicans and Democrats alike in Virginia have condemned a Halloween-themed email from a Loudoun County, Va., GOP group for featuring an image of a "ghoulish-looking President Obama with a bullet hole through his head," ABC News reports.
The email reportedly invited supporters to a community parade where "we are going to vanquish the zombies with clear thinking conservative principles and a truckload of Republican candy," the story says. House Minority Leader Nancy Pelosi is also caricatured as a jack-o'-lantern.
The blog Too Conservative first reported the story of the email, saying it had gone too far and should be turned over to the Secret Service, ABC reports. The Secret Service is aware of the incident, the site says.
Mark Sell, head of the group the Loudoun County Republican Committee, said the email does not reflect the ideals of the group's entire membership.
"Apparently, some individuals have interpreted an image of Barack Obama that appeared within the email as intending to portray the President as a victim of a violent crime. Nothing could be further from the truth," Sell said in a statement, according to ABC. "We deeply and sincerely apologize to the President and anyone who viewed the image if that was the impression that was left."
This type of so-called high-tech lynching, to borrow a phrase from GOP presidential hopeful Herman Cain, is only the beginning of a nasty political season. The good news is that even some people within the Republican Party see the ruthless nature of some of these attacks and have begun to push back in the strongest-possible way.
Read more at ABC News.
In other news: Samuel L. Jackson: Highest-Grossing Actor of All Time.