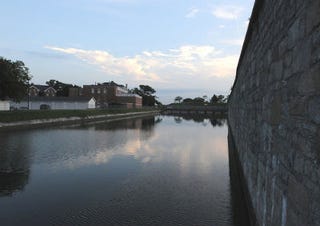 Calling it a bold step toward job creation, President Barack Obama is scheduled to sign a proclamation at the Oval Office today that will designate Virginia's historic Fort Monroe, which has deep historical ties to slavery, as a national monument. The move is expected to generate 3,000 jobs, according to a news release from the White House.
"Fort Monroe has played a part in some of the darkest and some of the most heroic moments in American history. But today isn't just about preserving a national landmark — it's about helping to create jobs and grow the local economy. Steps like these won't replace the bold action we need from Congress to get our economy moving and strengthen middle-class families, but they will make a difference," President Obama said in the release.
The release also says:
According to an economic analysis commissioned by the Fort Monroe Authority in 2009, the implementation of the Fort Monroe Reuse Plan — the centerpiece of which envisions the preservation of the majority of buildings located within the 570-acre National Historic Landmark District as well as significant landscapes and viewsheds — will help create nearly 3,000 jobs in Virginia, the release says. 
Fort Monroe, a historic fort in Virginia's Tidewater region, played a pivotal role in the history of slavery in the United States. Built between 1819 and 1834, Fort Monroe has occupied a strategic coastal defensive position since the earliest days of the Virginia Colony. It was the place where Dutch traders first brought enslaved Africans in 1619. During the Civil War, the fort remained in Union possession and became a place for escaped slaves to find refuge. Fort Monroe was the site of General Benjamin Butler's "Contraband Decision" in 1861, which provided a pathway to freedom for thousands of enslaved people during the Civil War and served as a forerunner of President Abraham Lincoln's Emancipation Proclamation of 1863. 
In other news: Samuel L. Jackson: Highest-Grossing Actor of All Time.