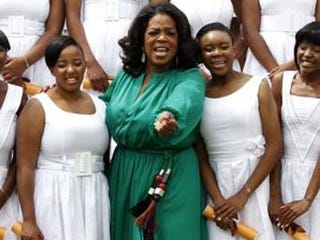 The first students from Oprah Winfrey's school in South Africa graduated this past Saturday.
The media mogul praised school administrators, parents and others for helping to ensure that these young girls reached their goal. Winfrey said during a graduation speech that these South African students are now "free to soar."
Many of the young women at the Oprah Winfrey Leadership Academy for Girls have gone through so many tragic events, according to Winfrey, including, "Divorce. Violence. Molestation. The loss of one parent. The loss of another parent. Sorrow. Sadness. Grief."
"I'm one proud momma today," Winfrey said Saturday.
The 72 graduating students will be attending colleges and universities in their home country and the United States.
Winfrey spent $40 billion to build the school, which has experienced its share of controvery since its opening. In 2010 a woman working in the school was accused of abusing a student. She was later acquitted. Last year a baby born to a student was found dead.
Despite all these setbacks, Winfrey believed this day would still come: "I always held the vision that this day was possible."
We applaud these young women and wish them all the best in their future lives, which should be filled with great things.
Read more at the New York Post.