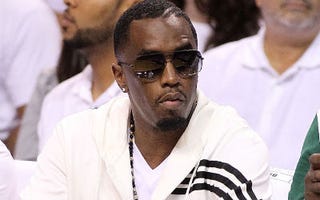 Good thing the rapture didn't actually happen as predicted (shocking, right?), because it would have been a shame for the masses to miss out on the chance to call Sean "Diddy" Combs by his new name: Swag. Yes, Swag.
He made the name-change announcement via video, saying, "I decided that I'm gonna change my name for a week in honor of my comeback. I've gone as Puff, Puffy, Puff Daddy, P. Diddy, Diddy, King Combs — my real name is Sean Combs — and for a week, this week only, you can call me by my new name, Swag."
You hear that, folks? For one week only, you have the fabulous opportunity to refer to a pop star-mogul as Swag — something he really doesn't possess if he has to actually ask people to call him that. We at The Root draw the line at "Diddy" when it comes to silly nicknames.
Read more at CNN.
In other news: Beyoncé vs. Willow Smith Videos: Who Did It Better?
Lauren is a former Deputy Editor of The Root.