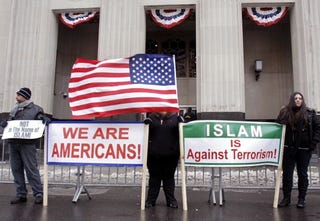 The Associated Press is reporting that a Nigerian man charged with trying to blow up a plane near Detroit is asking for his interview to be thrown out and for a change of venue.
Why? Seems his rights were violated. Umar Farouk Abdulmutallab says that U.S. agents failed to read him his Miranda rights and interrogated him while he was sedated and recovering from major burns soon after his arrest following the incident on Christmas Day 2009.
Umar Farouk Abdulmutallab wants a judge to throw out statements made at University of Michigan hospital. He also asked that his fall trial be moved out of Michigan because of the public's "overall hostility" toward him.
Abdulmutallab, 24, is charged with trying to ignite explosives in his underwear on an Amsterdam-to-Detroit flight with nearly 300 people aboard. Passengers pounced on him and put out the flames on Christmas Day 2009.
Friday was the deadline to challenge the government's evidence ahead of the Oct. 4 trial in Detroit. Abdulmutallab insists on acting as his own lawyer, but he's being assisted by standby counsel Anthony Chambers, who signed the latest court filings.
While Abdulmutallab is innocent until proven guilty, it would seem that law-enforcement officers took the utmost care in this case. It will be interesting to see how it all plays out in court.
Read more at the Washington Post.
In other news: Police Shooting Triggers London Riot.